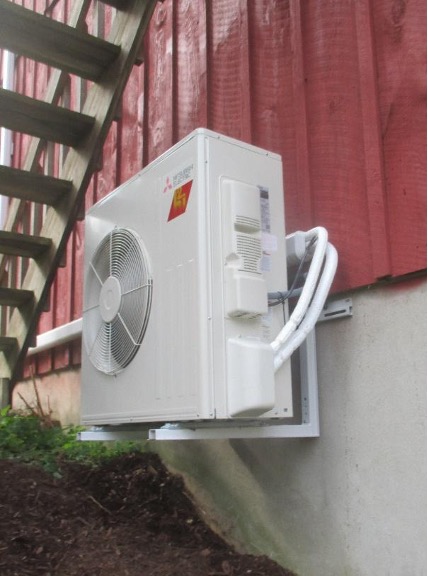 This article is Part 5 in a series on retrofitting fossil fuel furnaces with ducted heat pumps. So far, we've done the homework: collecting data, calculating heat loads, and selecting equipment. Today, we take action. We'll send a fossil-fuel-burning dinosaur to the scrap yard. In its place, we'll install an all-electric system that will dramatically cut our customer's carbon footprint. If we're displacing an expensive delivered fuel like propane or fuel oil, we'll be cutting their energy costs. And, by upgrading filtration and eliminating combustion, we may also improve their indoor air quality.
What you'll read here is intended as an overview of the steps in an installation. The work must be done by technicians with the necessary training and mindset. Electrical work, done incorrectly, can lead to fire or shock. Faulty refrigerant connections can lead to early equipment failure and environmental harm. Even condensate piping, done wrong, can lead to thousands of dollars in water damage. Attention to detail—and adherence to the manufacturer's instructions, relevant codes, and best practices—can make the difference between a successful installation and a nightmare.
Planning workflow
I've found that a furnace-to-heat pump retrofit is typically a two-to-three-day installation. If the retrofit takes place during mild weather, or if the customer has a backup heat source like a wood stove, the workflow should seek to maximize labor efficiency, even if that means taking the central heat offline overnight. But if the retrofit takes place in the depths of winter, the focus needs to be on minimizing the time without heat. When that's the case, I try to do as much as possible before taking the old heating system offline. The outdoor unit can be set, the electrical circuits run, and the refrigerant tubing roughed in while…
Weekly Newsletter
Get building science and energy efficiency advice, plus special offers, in your inbox.
This article is only available to GBA Prime Members
Sign up for a free trial and get instant access to this article as well as GBA's complete library of premium articles and construction details.
Start Free Trial
Already a member? Log in