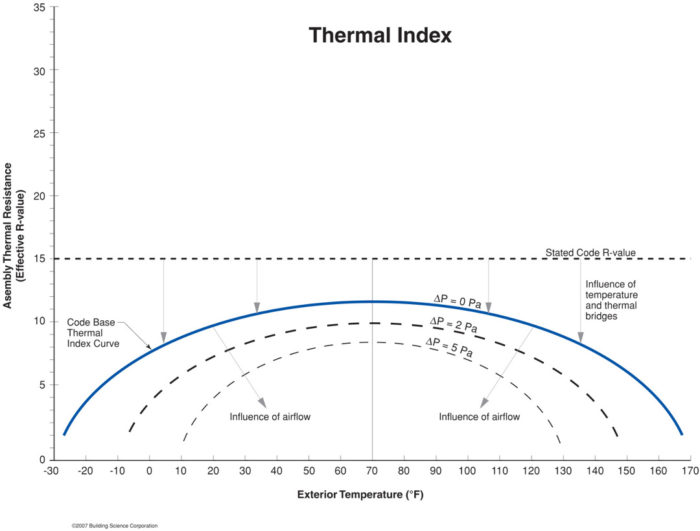 R-value is the poor stepchild of building science metrics. Although it is often essential for builders, designers, and engineers to know a material's R-value, this useful metric is regularly abused, derided, and ridiculed for its shortcomings. "R-value doesn't measure assembly effects: thermal bridges, air movement, thermal mass, moisture content — all of which can all affect thermal properties," explained Chris Schumacher, an engineer and researcher at Building Science Corporation, at a summer symposium in 2009. "R-value doesn't do a good job describing the entire system."
To R-value defenders, however, creating a list of things that R-value doesn't measure is a trivial and pointless exercise. After all, a similar list can be developed for any metric or measurement device: for example, a thermometer doesn't measure relative humidity or wind speed.
Even critics of R-value, including Schumacher, note that the metric has certain strengths. "R-value is widely accepted and FTC-regulated," Schumacher noted at this year's Building Science Symposium in Westford, Mass. "It is simple to measure. You can communicate it easily — it's just one number." On the other hand, Schumacher points out, "R-value implies that the thermal performance of a material is constant. But that is only true if the effective conductivity is constant, if there material has no temperature sensitivity, if the material has no airflow sensitivity, if there is no moisture adsorption, and if the material is homogenous."
Did the developers of R-value make a mistake?
As I noted in an earlier blog, R-value (defined as the inverse of U-factor) was first proposed in 1945 by Everett Shuman, the director of Penn State's Building Research Institute. Since 1979, the Federal Trade Commission has incorporated a definition of R-value into federal law. Insulation manufacturers and insulation installers must report R-values according to the FTC definition. The…
Weekly Newsletter
Get building science and energy efficiency advice, plus special offers, in your inbox.
This article is only available to GBA Prime Members
Sign up for a free trial and get instant access to this article as well as GBA's complete library of premium articles and construction details.
Start Free Trial
Already a member? Log in