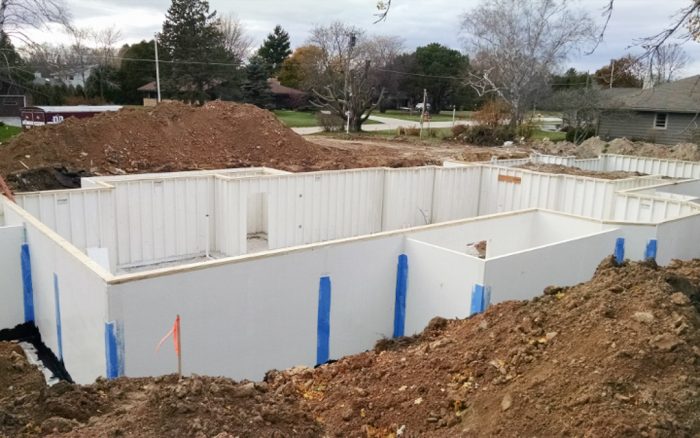 A Wisconsin-based company has developed a way to replace cast-in-place concrete foundation walls with insulated composite panels that can be set in place in just a few hours.
Epitome foundation walls were developed by a builder who was tired of scheduling delays caused by a shortage of concrete subcontractors, according to the manufacturer. Glenn Schiffmann began looking at alternatives, including precast concrete. But in the end, he settled on a composite with a core of rigid foam insulation. What started as an answer to his own construction problems has blossomed into a company called Composite Panel Systems that now ships foundation components all over the country.
Justin Mills, the company's executive director of operations, said builders who use Epitome foundations won't have to wait for foundation subcontractors to set up and take down concrete forms, or schedule a ready-mix truck. Once the panels are on site, they are set on concrete footings in as little as 2 1/2 hours.
"It's a one-step process," he said. "When it's in, it's done."
To date, the company has installed nearly 500 foundations in 36 states, Mills said. The 24-foot by 9-foot panels are fabricated by FiberTech Industries in Washington Courthouse, Ohio, and shipped by truck to local fabricators who are equipped to cut panels to size, add door and window openings, and erect them on the job site.
NTA, a third-party evaluator affiliated with the International Code Council, has found the panels compliant with 2012 and 2015 versions of the International Residential Code and the International Building Code.
The fire- and water-resistant panels have an R-value of 16.5 and are manufactured with integral composite studs to the inside for attaching drywall or other finish materials. Mills said the manufacturing process is similar to how composite boat hulls are formed with a mix of fiberglass,…
Weekly Newsletter
Get building science and energy efficiency advice, plus special offers, in your inbox.
This article is only available to GBA Prime Members
Sign up for a free trial and get instant access to this article as well as GBA's complete library of premium articles and construction details.
Start Free Trial
Already a member? Log in