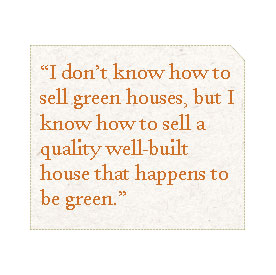 Ideal Homes builds inexpensive, energy-efficient houses; it just doesn't call them green
You can look high and low on the Web site of Oklahoma City developer Ideal Homes, and you won't find the words "green building." Since its founding in 1990, Ideal has built and sold more than 7,000 homes, and it expects to sell a further 500 this year.
Green building is not a dirty word at Ideal. In fact, the homes built by the company are 44% more energy efficient than specified by the 2006 International Residential Code (IRC). And back in 2005 the company built the country's first under-$200,000 zero-energy home — a house that generates at least as much energy as it uses.
But Ideal co-founder and president Vernon McKown, who is also a past president of the Energy and Environment Building Association (EEBA), doesn't think the word "green" is necessary to persuade buyers to invest in an Ideal home.
"When people come to look at our houses, we sell them on quality construction," McKown says. "And then we show them that quality means things like high levels of insulation, ducts sealed with mastic, and comprehensive air sealing. Everyone then understands that quality construction translates to less energy use." He further explains that in Oklahoma City's competitive new-home market, a rival's development across the street is likely to have similar homes, but with one major exception: "Quality is what makes us special."
Green can be affordable to build too
One of the company's current projects is to build Oklahoma's first National Association of Homebuilders (NAHB) Gold Standard House for under $150,000. (Under NAHB's Model Green Home Building Guidelines, a house scores points under seven guiding principles and then is awarded gold, silver, or bronze status.) The model house, known as the Iris house, has 1,774 square feet of living area with three bedrooms, two baths, and amenities such as 20% post-consumer solid-surface countertops, dual-flush toilets, a covered front porch, and a fresh-air ventilation system. Similar to all Ideal homes, the Iris uses advanced framing techniques, blown-in cellulose insulation, radiant-heat-barrier roof sheathing, and polystyrene-insulated wall sheathing.
McKown's company focuses on good building practices rather than high-profile green products. All windows, doors, and sills are caulked for air sealing, and foundation perimeters are insulated. "Air-sealing a house and making sure the ductwork doesn't leak don't have anything to do with green building products," McKown says. "It's all about the process."
However, McKown is a big fan of high-quality vinyl windows with a low-e coating. "For an upgrade that costs $300 to $400, we can reduce heat gain by 50%" he says. "We're after the biggest bang for the buck, and that means making the most of what you have."
McKown doesn't baffle his customers with too much talk about high technology, but he does speak about things they understand. "I'll ask them if they ever lived in a house that had a room that was too hot or cold. Everyone can relate to that," he says. And then he will explain that it won't happen in an Ideal home. "You don't have to build a watch in order to know how to tell time."
According to the National Center for Energy Management and Building Technologies, field studies have shown that existing residential air-distribution systems can leak as much as 40% of the supply air. Ideal's houses test out at a 5% leakage rate, which translates to big savings.
Ideally, you'd put your money where your mouth is
The company is so confident about its homes' energy efficiency that it guarantees its homes' energy costs. Here's how the program works:
Ideal determines what the typical energy costs will be in a home in a typical weather year, based on local utility rates. This applies to heating and cooling bills only because it can't control a household's electrical usage of such things as lights, appliances, electronics, and computers. Ideal will then guarantee that the heating and cooling costs in a home will not exceed predesignated levels.
"I show people that an Ideal home will cost them about $50 to $80 less each month than a similar home built by our competitors," McKown says. "And unless you're a millionaire, that means a lot."
Ideal homes are not the least expensive in the area. In fact, they average more than $10,000 more than their competitors', and while that may cause some buyers to hesitate, it doesn't worry McKown. "There is a certain group of folks where the low price is always the decision maker, but for others, skimping on quality is not something they are going to do for the biggest purchase they'll ever make."
Regardless of the extra initial purchase cost, energy efficiency based on quality building that leads to lower monthly costs works well for the company: Fully one third of its new customers are referrals from current owners.
The NAHB gold-rated Iris house opened to a fanfare of press coverage and house tours. While all Ideal homes are built to at least the NAHB bronze standard, the company doesn't get them certified but rather has each completed home tested by third-party auditors. When asked why he bothered with the gold certification this time, McKown said, "Well, if I put out a press release that said we'd built another high-quality house, probably no one would have showed up. But the gold rating makes it news."
And when people showed up to go through the Iris house, McKown used his familiar but successful talking points of quality and energy efficiency. "I don't know how to sell green houses, but I know how to sell a quality, well-built house that happens to be green."
Weekly Newsletter
Get building science and energy efficiency advice, plus special offers, in your inbox.