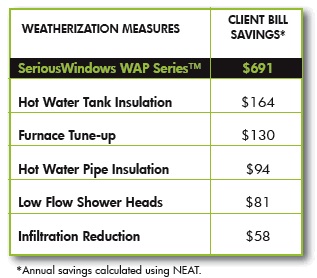 With window replacement now on the menu of stimulus-funded weatherization options, building-products manufacturer Serious Energy, based in Sunnyvale, California, recently rolled out a line of energy efficient replacement windows it calls the SeriousWindows WAP Series.
And Comfort Windows, which makes windows and doors, and offers home-insulation services through four showrooms in upstate New York, claims this summer has been among its busiest – enough so that the company is considering adding another showroom to its roster. Company co-owner Fritz Gentile recently told the Syracuse Post-Standard that federal tax incentives, in particular, have boosted sales significantly.
Through 2010, homeowners are eligible for a tax credit of 30% of the replacement cost, excluding labor, for windows, doors, and wall insulation, up to $1,500. Homeowners in New York, through the state's participation in the federal Home Performance with Energy Star program, also may qualify for rebates or low-interest loans to help cover the cost of energy efficiency improvements.
Tempering anticipation with patience
Both Comfort Windows and Serious Energy (formerly known as Serious Materials) are banking on market- and stimulus-related forces to propel increases – if not necessarily surges – in demand for their products. Given general economic conditions, though, it is difficult to say how quickly those increases will emerge.
Gentile told the Post-Standard that his company's possible showroom expansion is at least partly preemptive. "The home improvement industry is going to come back and we need to be ready," he said.
There are in fact signs that at least a couple major economic indicators – the stock market and the housing market – are beginning to point to a recovery. The Commerce Department reported on Monday that new-home sales in June rose 11% over those in May to a seasonally adjusted annual rate of 384,000. New-home sales have increased for three consecutive months, although prices continue to slip, with the median price for a new home in June at $206,000, down 12% from the $219,000 median in May.
Still, the housing recovery will be slow, by any standard. (And the true pace of recovery of the stock market – a leading indicator whose Dow Jones industrial average last week closed above 9,000 for the first time in half a year – will be, as usual, anybody's guess.)
Waiting for funds to trickle down
For the SeriousWindows WAP Series, an increase in orders will arrive with more certainty, since federal stimulus funds for the Department of Energy's Weatherization Assistance Program are finally making their way to the states and the community organizations that will hire contractors to actually deliver weatherization services and products to low-income households.
This can't happen soon enough for some of Serious Energy's current and prospective workers. The company attracted a lot of favorable publicity in January – including praise from President Obama and Vice President Biden – when it agreed to buy Chicago-based Republic Windows and Doors, whose almost 300 employees staged a sit-in after Republic closed its doors a month earlier.
The time-consuming bureaucratic process of getting weatherization work underway, however, has meant that Serious Energy still hasn't expanded the Republic Windows workforce beyond the 15 people currently working at the factory, which makes energy efficient windows and Serious Energy's drywall, notes a recent story in In These Times, the news outlet for the progressive, nonprofit Institute for Public Affairs, based in Chicago. So while the wait for employment might end for many former Republic workers relatively soon, the level of anxiety is still high.
Weekly Newsletter
Get building science and energy efficiency advice, plus special offers, in your inbox.