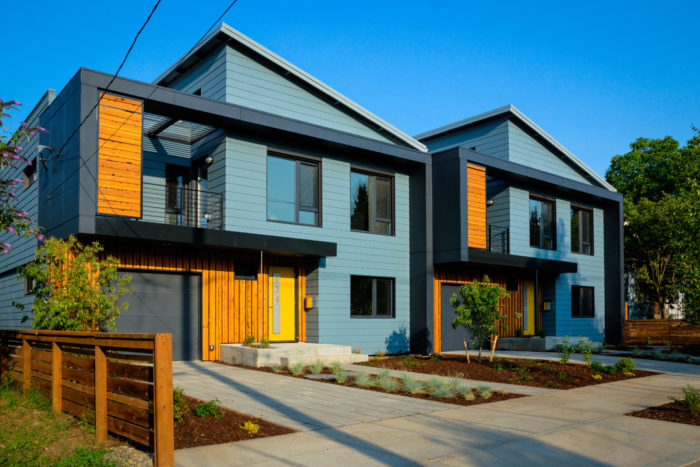 In Portland, Oregon, both units of a two-unit Passivhaus project sold before they were complete — one of them after being on the market for only two days and the second before it was ever listed with a real estate agent.
The net-zero energy O2Haus is the work of PDX Living, a company that is co-owned by Rob Hawthorne and Bart Bergquist. An earlier duplex project in Portand, called TrekHaus, was described in a GBA post by Richard Defendorf early last year.
The 02Haus units are 1,690 sq. ft. each, with three bedrooms, two bathrooms, and a one-car garage. Hawthorne says the project is the first net-zero Passivhaus spec project he's aware of in Portland. The project is in the Montavilla neighborhood.
After the first unit sold, the company had hoped to complete the second unit and schedule an open house before listing it. "But," Hawthorne said, "a couple of people had heard about it and someone came in and said, 'Please, please take my offer.' It was hard to refuse it. So one of the units was never listed."
The units sold for $379,000 and $405,000. He called the quick sale of the properties, at or above the asking price, a "good sign for the green building industry."
A tight, superinsulated building enclosure
The building's heating load is only 4,500 Btu/h, thanks to a lot of insulation and very careful air-sealing. It's built on a concrete slab that was placed over 9 inches of EPS foam insulation (R-36). Walls were framed with 2x8s, packed with blown-in cellulose, and then insulated on the outside with 4 inches of rigid polyisocyanurate foam insulation (R-52).
PDX framed the roof with 14-inch-deep I-joists, also filled with cellulose, and capped the roof assembly with 7 inches of polyisocyanurate foam, for a total R-value of 95.
Windows are Intus Eforte, a triple-paned European tilt-and-turn design with vinyl frames.
The builders took extra steps to insulate exterior doors because they couldn't locate a high-performance door at a price they wanted to pay. Starting with a Thermatru fiberglass door, they built an extra frame on the interior and insulated it with 1 in. thick vacuum insulated panels made by Dow Corning.
With an R-value of 39 per inch, the panels helped get the whole-door R-value to 16, Hawthorne said, about three times as effective as a stock door.
When tested with a blower door, the units showed 0.33 and 0.35 air changes per hour at 50 pascals, roughly half the leakage allowed by the Passivhaus standard.
Ducted minisplit for heating and cooling
Because of the extremely low heating and cooling loads, the builders needed only a single minisplit per housing unit. Instead of opting for a wall-mounted unit, they chose a ducted Mitsubishi design, even though it's not quite as efficient as ductless unit. The long, narrow grille is located on the wall of the foyer.
"I know the coefficient of performance is a little lower for the ducted version," Hawthorne said. "You do take a little bit of a performance hit, but I think for me every decision is kind of a balancing act. In terms of efficiency, yes, I want those units to be extremely high efficiency but there are certain things I'm not really willing to compromise on, and in this case it's the aesthetics.
"We really racked our brains on how to get a true ductless head somewhere in the unit and make it look good," he said. "We spent a lot of time on trying to make that work. But we just couldn't find a place where it could fit in with the modern, clean aesthetic of the rest of the project. So this was just a compromise we decided to make."
Other features include:
A Zehnder heat recovery ventilator.
A heat-pump water heater made by Airgenerate.
A 4.8-kW photovoltaic array for each unit.
Weekly Newsletter
Get building science and energy efficiency advice, plus special offers, in your inbox.