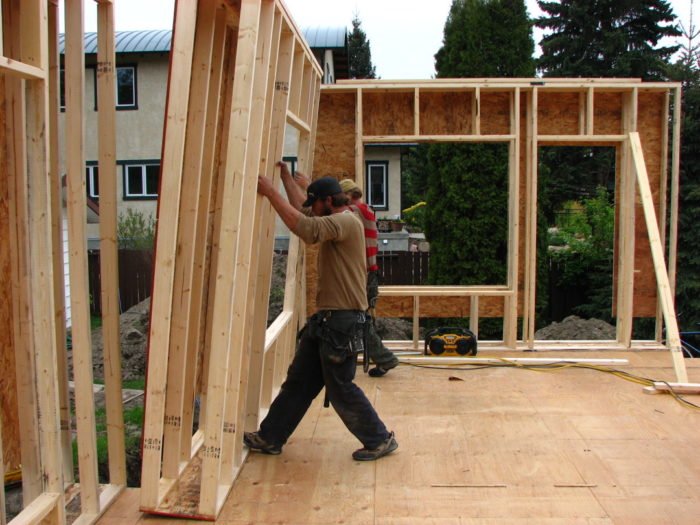 Jospeh Dziedzic know that he wants a high-performance, net-zero-ready house. He's just not sure how to get there.
"In general terms," he asks in this recent Q&A post, "which would be the better R-40-ish wall assembly in Zone 5 for a builder new to net-zero-ready construction: a standard 2×6 wall with 3-4 in. of exterior foam/rainscreen ("outie" windows on 2×4 bucks) or a 2×4 double-stud wall ("outie" windows on exterior sheathing)?"
In either case, Dziedzic plans to use dense-pack cellulose insulation along with vinyl siding. The double-stud wall would be roughly 11 in. thick.
"I'll work with an experienced designer to get the all of the air and water control details incorporated into the plans," he adds, "but I am curious if one of those two approaches will be less likely to screw up and more likely to be done correctly. Of course, I'll be watching over all the details like a hawk."
That's where we start this Q&A Spotlight.
First, exterior foam

We can count GBA reader Chicagofarbs in the exterior foam camp.
"I prefer an approach with a fair amount of continuous exterior insulation," he says, "2-4 in., if possible."
He notes that the newest version of the International Energy Conservation Code (IECC) requires R-5 of continuous insulation in climate zone 5 with a 2×6 wall. But if Dziedzic is really turned off by the idea, he could consider the Tstud, a thermally broken alternative to conventional dimensional lumber for use in exterior walls.
As attractive as exterior foam might be from a performance standpoint, Aaron Hawkins writes that in his case it was a major pain in the neck to execute. Hawkins, also new to Passive House and net-zero construction, settled on 5 in. of exterior polyiso when he renovated his climate zone 5 home.
"There…
Weekly Newsletter
Get building science and energy efficiency advice, plus special offers, in your inbox.
This article is only available to GBA Prime Members
Sign up for a free trial and get instant access to this article as well as GBA's complete library of premium articles and construction details.
Start Free Trial
Already a member? Log in