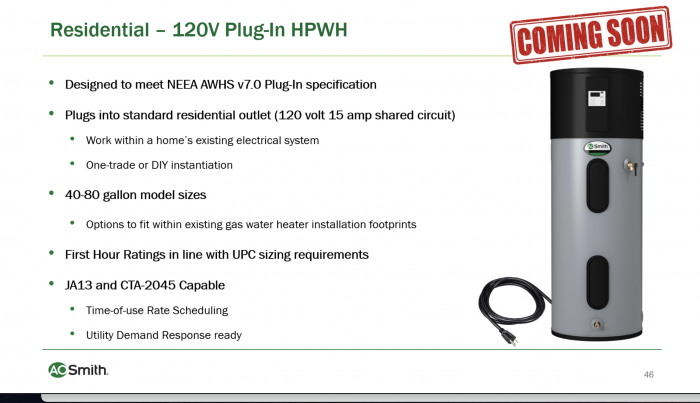 Three major water heater manufacturers say they are developing heat-pump water heaters (HPWHs) that will run on a 120-volt circuit, a development that could make the high-efficiency appliances a drop-in replacement for gas models and attractive to a much larger pool of consumers.
Rheem, A.O. Smith, and GE Appliances all are working on the plug-in models, with two of the companies saying they should be available this year. GE has not announced when its version might be on the market, and it's not clear where the new models will be sold.
The disclosures came during an unusual webinar hosted by the New Buildings Institute and the Building Decarbonization Coalition on May 13 in which the manufacturing competitors talked about products still in development to an audience of several hundred listeners.
Heat-pump water heaters are far more efficient than conventional electric tank models. They rely on the same technology that makes air-source heat pumps so attractive, but until now they have been limited to models that run on 240-volt current. Homeowners who wanted to switch from a gas water heater to a HPWH will be forced to upgrade the electric panel if the panel doesn't have the capacity for a new, dedicated 240-volt circuit. That can get expensive.
But the models under development, and in some cases now in field tests, are designed to run on either a dedicated 120-volt circuit or a shared circuit that also powers other devices. Consumers would not be forced to upgrade their panels.
Panama Bartholomy, director of the Building Decarbonization Coalition, said development of the plug-in HPWHs could be traced to a conference in San Francisco in 2019 in which industry and environmental interests met to discuss how to reduce the use of fossil fuels. The result was the Roadmap to Decarbonize California's Buildings, which included plans to replace gas-burning appliances with electric versions.
As explained by Amruta Khanolkar, a project manager at the New Buildings Institute, the Advanced Water Heating Initiative included a number of goals for the new class of water heaters that would make them appealing to the retrofit market. That included the ability to run on a 120-volt, 15-amp circuit, and be plugged in rather than direct-wired to the panel. The target was the market for 7 million water heaters that have to be replaced annually.
"If consumers want to decarbonize and switch to an electric water heater, the only option they currently have is going for expensive and extensive panel upgrades," she said. "This technology, if validated, will no longer require that."
While better suited as a drop-in replacement for an existing water heater, the plug-in models have a couple of disadvantages when compared to their 240-volt cousins. Because of the reduced current, they take longer to heat water and have lower first-hour ratings, a measure of how much hot water they can produce in the first hour of operation. Manufacturers are trying to compensate in several ways. One approach is to store water at a relatively high temperature and mix it with cooler water as it leaves the tank. Another is to include auxiliary heating coils to boost water temperatures when the heat pumps can't meet demand.
The company representatives indicated that the plug-in versions would make about the same amount of noise as the 240-volt models when operating, cost about the same, and would use the same type of refrigerant. Both noise levels and the development of refrigerants with lower global warming potentials seemed to be an area of interest for all three companies.
GE Appliances
GE's place at the table was a little surprising. The company dropped out of the heat-pump water heater market in 2017, citing low demand for its GeoSpring model. The company sold its manufacturing line to Bradford White, which had been buying the GeoSpring and selling it under its own label, AeroTherm. The move allowed Bradford White to continue selling a HPWH.
As recently as March, a spokeswoman for GE Appliances confirmed the company was out of the business and made no mention of the development of what appears to be a retooled GeoSpring HPWH. The issue came up with the publication of a consumer guide to electrification, which mentioned plug-in models that were not commercially available, including the GeoSpring.
Tom Zimmer, who leads the water heater division at GE Appliances, said on the webinar that it was developing both a 120-volt and a 240-volt GeoSpring model, although he did not say when they might be back on the market. The new model would come with tank sizes of 40, 50, 65, and 80 gallons and have a built-in WiFi module.
Zimmer acknowledged some of the difficulties in selling HPWHs, including higher costs when compared to gas models, higher installation costs if panel upgrades are required, and marginal energy savings. A model that runs on a 120-volt circuit has added disadvantages.
"When you move from the 240-volt to the 120-volt configuration you are giving up energy use on the input side, so it takes longer for tanks to recover, especially those that are operating on pure heat-pump operation, and there is a tendency to get lower first-hour ratings because of that difference," he told the webinar audience.
"In round numbers, you nearly have to double the tank capacity to get comparable first-hour delivery," he added. "That's something we have to factor in as we think about these conversions."
The company didn't discuss its reasons for jumping back into HPWHs except to note that the industry is evolving. Through a spokeswoman, Zimmer said, "GE Appliances will be a full-line manufacturer to meet the needs of the industry. This need is evolving, and as it starts to include HPWHs (120V or 240V), GE will bring great products to serve those needs. The 120-V HPWH product is still under development, and we do not have a launch date to communicate at this time."
A.O. Smith
Arthur Smith, a product manager for specialty residential products, would say only that the company's 120-volt plug-in model would be available sometime this year. "That's about as specific as I'll get," he said. The plug-ins will be available in a variety of capacities and will include backup electric resistance elements. Smith, however, said he expected the heat-pump would be in heating mode almost all of the time.
Rheem
Kevin Clark, a regional manager for the company, said Rheem models had been in test homes for more than a year. A total of 13 units have been installed in Connecticut, Georgia, and California, with another six are planned by June. Clark said a total of six new HPWHs would be available sometime this summer. It would be a California-centric product, at least to start. Unlike the other two companies, Rheem is not including an auxiliary electric element in its models.
---
Scott Gibson is a contributing writer at Green Building Advisor and Fine Homebuilding magazine.
Weekly Newsletter
Get building science and energy efficiency advice, plus special offers, in your inbox.