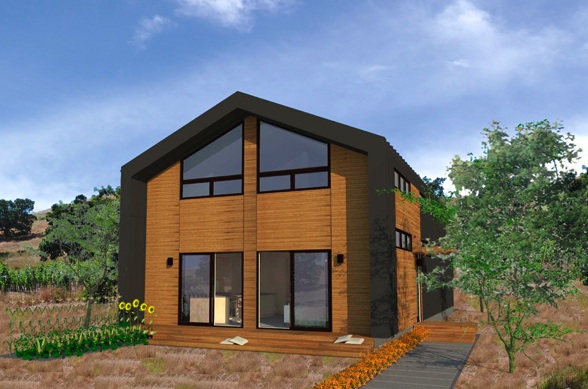 As she made clear last fall when she sold the assets of her firm mkDesigns to prefab specialist Blu Homes, Michelle Kaufmann wasn't done with green modular construction. The architect and green-construction advocate has continued designing single-family homes, eco-resorts, and multifamily communities for a range of clients. Most of the projects incorporate modular construction.
And this week, Michelle Kaufmann Studio announced a line of homes, called the Zero series, that is based entirely on prefab construction. In addition to delivering on energy efficiency, water conservation, and healthy indoor environments, Kaufmann says, Zero series homes aim to "blur the boundary between the interior and exterior, 'borrowing' space from the outdoors, and using the strategy of designing big rather than building big." The homes, in fact, are not big. In various configurations, a Zero series house may be as small as 422 sq. ft. or as large 2,643 sq. ft., with prices beginning at $66,500.
The meaning of Zero
The homes also are designed to perform to the net-zero-energy standard through a combination of thorough insulation and airtightness and the use of renewable-energy systems, particularly solar power. Modules for the homes, which are being offered through Studio 101 Design, of San Rafael, California, will be built by Blazer Industries, an Aumsville, Oregon, company that specializes in a variety of panel and modular technologies.
Two basic Zero series configurations – Ridge0 and Vista0 – are currently available. A third, Contours0, is scheduled to be unveiled on August 17. Kaufmann says Zero series homes are designed to be LEED certified, although the firm will work with clients who want to obtain other green homebuilding certifications.
Weekly Newsletter
Get building science and energy efficiency advice, plus special offers, in your inbox.