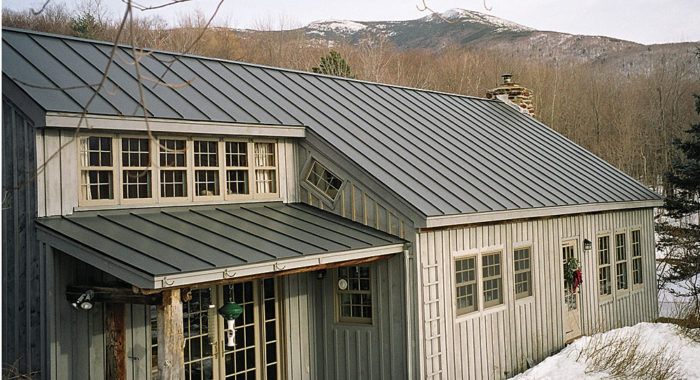 My rustic 1930s post-and-beam home in Vermont had a definite roof problem: It was poorly insulated and susceptible to ice dams. But when I started working on a design for upgrading the insulation, I wasn't willing to lose the look of the cathedral ceiling and the exposed-pole rafters by insulating on the inside. Because I needed to replace the 30-year-old cedar shakes anyway, it appeared an opportune time to fix the problem from the outside.
I had already installed one interior post to strengthen the roof structure and to help support snow loads, but the sagging ridge beam and the wavy roof surface still precluded the use of either SIPs (structural insulated panels) or rigid-foam board. A double-layer "cold roof" (see Framing a Cold Roof) appeared too costly and prone to possible failure if snow clogged the upper vents. So in the end, I decided to build a second sealed, well-insulated roof directly over the first.
After the old shingles were stripped and the deck sealed with weatherproof polypropylene underlayment, a new straight, level ridgeboard was set above the old one. Rafters then were built in place, and closed-cell polyurethane foam was sprayed to fill this frame. The new roof frame then was capped with sheathing and a second layer of weatherproofing before the standing-seam metal roof was installed.
The closed-cell foam increased the estimated R-value from 11 to 45. The higher R-value and the fact that snow now slides off the steel roof have worked together to solve the ice-dam problems. Although not inexpensive (about $18 per sq. ft.), this high-performance roof lends solace to the worry of rising fuel costs. Not least of all, the increased comfort from a warmer ceiling makes it all worthwhile.
FRAME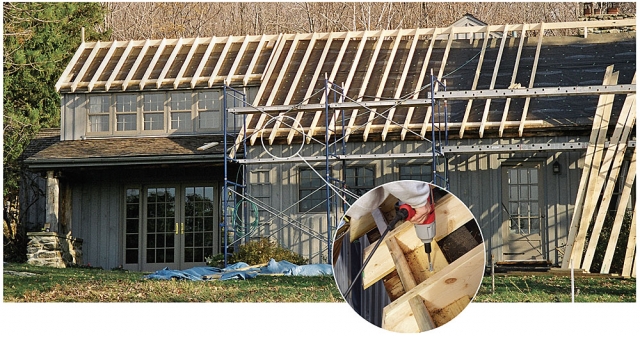 After the roof is stripped, the old surface is sealed with…
Weekly Newsletter
Get building science and energy efficiency advice, plus special offers, in your inbox.
This article is only available to GBA Prime Members
Sign up for a free trial and get instant access to this article as well as GBA's complete library of premium articles and construction details.
Start Free Trial
Already a member? Log in