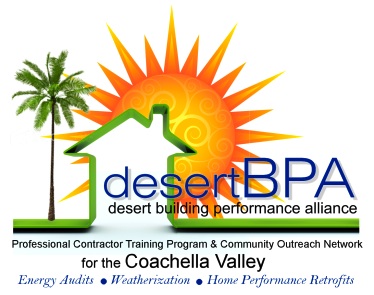 Having had a couple years to attune themselves to California's Green Building Standards Code, which is set to segue from voluntary to mandatory on January 1, building professionals throughout the state have implemented a number of strategies to manage compliance issues. One group of contractors, the Desert Building Performance Alliance, was recently formed in the Coachella Valley to help assure the area's buildings are code-compliant and operating as efficiently as possible.
The desertBPA, as it is known, bills itself as a professional contractor training program and community outreach network – a resource for homeowners who might qualify for weatherization work through the Department of Energy's Weatherization Assistance Program as well as for homeowners whose newly installed air conditioning or heating system is ready for the required testing by a Home Energy Rating System inspector.
Sealing leaks, meeting demand
"It's important to have people doing these inspections," Yolanda Rustad of Living Eco-Wise Community Training, a HERS and building performance training firm that is working on the new alliance, recently told The Desert Sun. "Even a brand-new home may be low on refrigerant or have holes, tears in the ducting. All these things make your system not operate efficiently."
For some in the valley's building industry, desertBPA has provided a way to help weather the economic downturn. Monica Sanderson, a formerly unemployed architect, completed HERS rater training and now works for alliance member MLC Home Performance Contractors of Palm Desert. After completing her first inspection, she told the Sun, "Eventually I want to use my architectural degree. I'm just happy to have a job where I get a paycheck on Friday."
"We want to be able to provide training to our membership to be sure they're in compliance" with state codes, said Ron Phillips, executive director of the association. "There are a lot of opportunities for our members who are falling on hard times to possibly increase their business and make sure they're providing good service to our customers. We all come out winners in the process."
Weekly Newsletter
Get building science and energy efficiency advice, plus special offers, in your inbox.