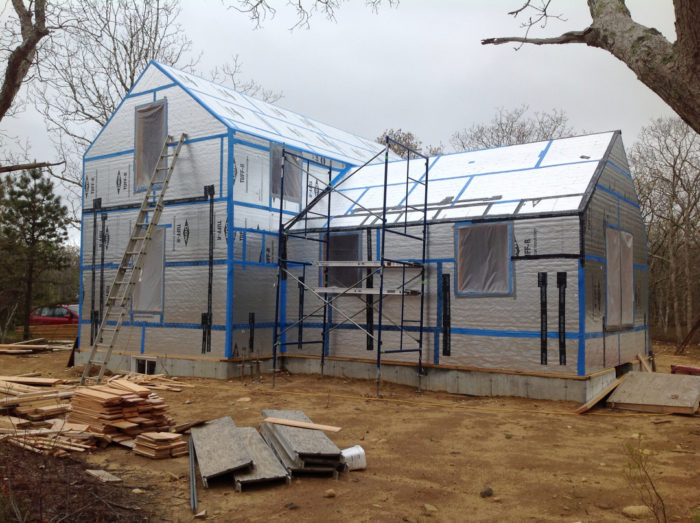 The Town of West Tisbury passed the Stretch Code at Town Meeting this year. It's a more stringent building code and in essence it speeds up the adoption of the next iteration of the International Energy Code.
Debate was spirited. "Aginners" (as in, "I'm agin' it") made impassioned pleas about how it was just another gubmint-imposed tax on those that could least afford it, the working folks. My opinion is exactly the opposite: Martha's Vineyard's tax on the working people is $4+ per gallon oil and propane, and almost $0.20/kWh electricity. A tougher energy code is the worker's friend in the long run.
These days, Habitat for Humanity is an efficiency pioneer
Next to those designed and built by South Mountain Company, the most energy-efficient houses on Martha's Vineyard are being built by Habitat for Humanity. They are dedicated to permanent affordability for their owners.
In the past, Habitat for Humanity often was the recipient of donated products that were sometimes on the low end of energy efficiency, such as inexpensive windows and low efficiency heating and hot water equipment. On Martha's Vineyard, the forward-thinking folks who operate Habitat for Humanity are, with some detailing help from South Mountain Company, building superinsulated homes that are very airtight. I help with quality assurance (QA), testing the houses with a blower door and a fog machine or IR camera.
Exterior polyiso foam and ductless minisplits
The first house at Bailey Park Road had a tested air leakage rate of 175 cfm50 at the stage of windows and doors installed and most of the rough-in done, but no drywall. In the next month they'll be ready for a final test.
Recently we tested the shell at the second house they are building there, with window and door openings poly'd off. It was just about 300 cfm50 with the air barrier being one layer of taped polyiso foam on the walls and roofs. The house is a kit, which is all tongue-and-groove pine inside — a potentially very leaky strategy.
With volunteer workers, they're building a house tighter than almost all the pros do here. The beneficiaries will be the owners. The mechanical system is minisplit heat pumps, far less costly to operate than fossil fuel equipment. Thanks, Habitat, for leading the way to permanently affordable housing.
Marc Rosenbaum is director of engineering at South Mountain Company on the island of Martha's Vineyard in Massachusetts. He writes a blog called Thriving on Low Carbon.
Weekly Newsletter
Get building science and energy efficiency advice, plus special offers, in your inbox.