I recently returned from a two-week family vacation trip to Alaska. This was my first trip to Alaska; of course, two weeks is a very brief time to visit such a vast state. We were able to spend some time in Fairbanks, Denali National Park, Anchorage, and Seward. We also spent several days fishing along the Salcha River and at Lower Paradise Lake on the Kenai Peninsula.
My visit to Alaska sparked ideas for several possible blogs:
During my visit to Fairbanks, where winter temperatures hit -60°F and permafrost is close to the surface, I learned how difficult it is to keep water pipes and septic system pipes from freezing. Builders in Fairbanks routinely hire spray-foam contractors to encapsulate drain pipes from the house to the septic tank before trenches are backfilled. Even with spray foam, it's still often necessary to install electric heat tape to keep buried pipes warm.
My brief visit to the Cold Climate Housing Research Center (CCHRC) in Fairbanks reminded me of all of the good research that director Jack Hébert and his staff have performed over the years. Anyone who builds houses in a cold climate owes a debt of gratitude to the folks at the CCHRC. (Thanks for the tour, Jack, and keep up the good work.)
During a sojourn at a Forest Service cabin on Lower Paradise Lake, I pondered the fact that there are two ways that Alaskans can keep warm during the winter: they can improve the airtightness and R-value of their home's building envelope, or they can simply build a very small home. Small homes are easy to heat, even if they aren't particularly well built.
But all of these topics have been pushed to the back of my brain by a more serious issue: Alaska's shrinking glaciers.
Glaciers are melting at an accelerating rate
In Alaska, we got close to at least five glaciers: Exit Glacier, Holgate Glacier, Mother Goose Glacier, Surprise Glacier, and Wolverine Glacier. It was a rare privilege to crawl out of our tent on a bright July morning on the shore of a remote Alaskan lake to see sunlight playing on the blue and white surfaces of a mountain glacier on the other side of the lake. A visit to Alaska sharpens the pain I feel when I learn the facts about climate change, because I have a better idea of what is now at risk.
When I looked at these impressive glaciers, I had no way to determine (like most tourists to Alaska) whether these glaciers are growing, stable, or shrinking. However, at the most visited of these glaciers, Exit Glacier, the National Park Service has provided a graphic way of displaying how quickly Alaska is losing its ice. Rangers have installed a series of signs, stretching over more than a mile, showing how much the glacier has shrunk in the last 100 years. The signs indicate the edge of the glacier at various times, beginning in 1899.
In recent decades, Exit Glacier has been retreating at a rate of 43 feet a year. Regularly visitors to Exit Glacier hardly need signs to understand the glacier's retreat, however. When she approached the edge of Exit Glacier, my girlfriend Karyn (who used to live in Alaska) was astounded to discover how much the glacier had shrunk since her last visit a decade or so ago.
According to Glaciers in Alaska, a book by research geologist Bruce Molina, 99% of Alaska's glaciers are retreating.
The simple fact that Alaska's glaciers are shrinking is old news; however, new evidence that Alaska's glaciers are melting at an accelerating rate — one of the conclusions of a study by University of Alaska researchers published in the journal Science — is worrisome. A CBS News story on the University of Alaska study quoted the study's lead author, Anthony A. Arendt: "From the mid-1950s to the mid-1990s, the glaciers lost about 13 cubic miles a year. In the last five years, that rate has almost doubled."
CBS News also reported, "Mark F. Meier, a glacier expert at the University of Colorado, Boulder, said the Alaskan study is an important advance in the efforts of science to understand the global climate. 'For the first time we have some hard data from these glaciers which we have suspected, but didn't know for sure, are major contributors to the sea level change caused by glacier melt,' Meier said. The contribution from Alaska's glaciers to the worldwide sea level rise 'is even more than what we had expected,' he said."
Sadly, the accelerating retreat of glaciers in Alaska is not an isolated phenomenon; it is part of a worldwide pattern of glacial retreat. Just this week, a monstrous chunk of the Peterman glacier in Greenland — a piece of ice twice the size of Manhattan — crashed into the sea. A Reuters News Service reporter interviewed Andreas Muenchow, an Arctic oceanographer at the University of Delaware, about the dramatic event: "Muenchow said climate change was a factor in the current state of the Petermann glacier. He said this glacier is as far back toward the land as it has been since the start of the industrial revolution more than 150 years ago."
Our planet is losing its ice.
Salmon runs are declining
Of course, shrinking glaciers are a sign of global warming. As the world's glaciers melt, the sea level rises. Moreover, shrinking glaciers are sending ripples that affect a great many ecosystems. One effect of shrinking glaciers is a decline in salmon populations.
According to a report on the PBS News Hour, "Rising temperatures may push Northwest salmon to the brink of extinction. Salmon depend on the glacier-fed streams of the Northwest to survive. But since 1920, the average annual temperature in the region has risen by one-and-a-half degrees. According to the United States Geological Survey, that slight rise in temperature caused the South Cascades Glaciers to shrink to half what they were a century ago."
The PBS reporter, Hari Sreenivasan, noted that fast-melting glaciers mean "higher water in the wintertime and lower streams in the summer, a combination that … spells disaster for salmon at every stage of their life. Heavy winter floods can wash away salmon eggs and small young fish. And low summertime currents mean warmer water. Adult salmon die if water temperatures rise above 70 degrees. Hamlet and other researchers project that, by 2080, nearly half of the streams they monitor will exceed average weekly temperatures of 70°."
This run of king salmon in Alaska this summer is one of the worst on record. Reporting on the disastrous salmon run, the Anchorage Daily News interviewed Robert Begich, area management biologist in Soldotna for the Alaska Department of Fish and Game. Begich said, "This run, at this time, is projected to be one of, if not the lowest, return on record dating back into the early 1980s."
"This is what global warming looks like"
This week's New Yorker includes a thoughtful article on global warming in the magazine's "Talk of the Town" section: "The Big Heat" by Elizabeth Kolbert. (Elizabeth Kolbert is the sister of "Pretty Good House" guru Dan Kolbert).
In her article, Kolbert describes the heat waves and drought that have affected much of the U.S. this year. "Last week, because of the dryness, the USDA declared more than a thousand counties in twenty-six states to be natural disaster areas. This was by far the largest such designation the agency has ever made. In the past month, as the severity of the situation has become apparent, corn prices have risen by more than forty percent."
As usual, Kolbert did an excellent job of connecting the dots. "Up until fairly recently, it was possible — which, of course, is not the same as advisable — to see climate change as a phenomenon that was happening somewhere else. In the Arctic, Americans were told (again and again and again), the effects were particularly dramatic. … Referring to the fires, the drought, and the storms, Jonathan Overpeck, a professor of geosciences and atmospheric sciences at the University of Arizona, told the Associated Press, … 'This is what global warming looks like at the regional or personal level.'"
Kolbert noted, "It's quite possible that by the end of the century we could, without even really trying, engineer the return of the sort of climate that hasn't been seen on earth since the Eocene, some fifty million years ago."
Kolbert's reporting should spur us all to action — personal action as well as political action — aimed at limiting CO2 emissions.
"It's working properly"
Rather than end this blog on a grim note, however, I'll lighten the mood with an anecdote that is totally off-topic. Without comment, I'm publishing a transcript of an actual online "live chat" session between energy consultant Mike Duclos (who was seeking information about a Jenn-Air induction cooktop) and a customer service representative from Jenn-Air.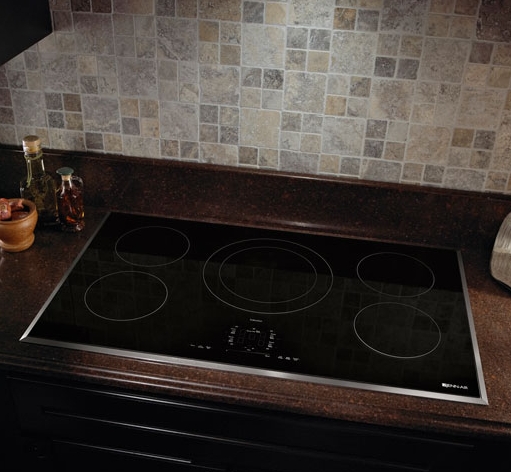 Amanda D.: Thank you for contacting Jenn-Air! My name is Amanda D. I will be with you momentarily.
Amanda D.: Hello, Mr. Duclos. How may I assist you today?
Mike Duclos: I am an energy-efficiency consultant who has an electricity monitor installed on a Jenn-Air JIC4536XS, and we are seeing a 40-watt draw continuously when there is no use. Can you explain why?
Amanda D.: I apologize for any inconvenience, it will be just a moment while I research this for you.
Amanda D.: The touch panel is pulling the wattage for the customer. It always will running and waiting on a command.
Mike Duclos: I have a GE cooktop with touch controls and it draws negligible power when it is off.
Amanda D.: It is the design of our product and working properly.
Mike Duclos: 40 watts times 8760 hours per year is about 350 kWh. That is as much as an efficient fridge, which is typically the highest energy consuming device in a home. So are you sure this is working correctly — just so I don't misunderstand?
Amanda D.: Yes, it is working correctly.
Mike Duclos: OK, thanks for that clarification, much appreciated.
Amanda D.: You are very welcome. Thank you for contacting Jenn-Air. Have a good day.
Mike Duclos: You too.
Hmmm… Now that I think about it, I guess that the existence of cooktops that draw 40 watts of electricity, even when off, may be connected to the topic of melting glaciers after all. So — if you care about the future of our planet, choose your appliances carefully.
Last week's blog: "The Connection Between Obesity and Climate Change."
Click here to follow Martin Holladay on Twitter.