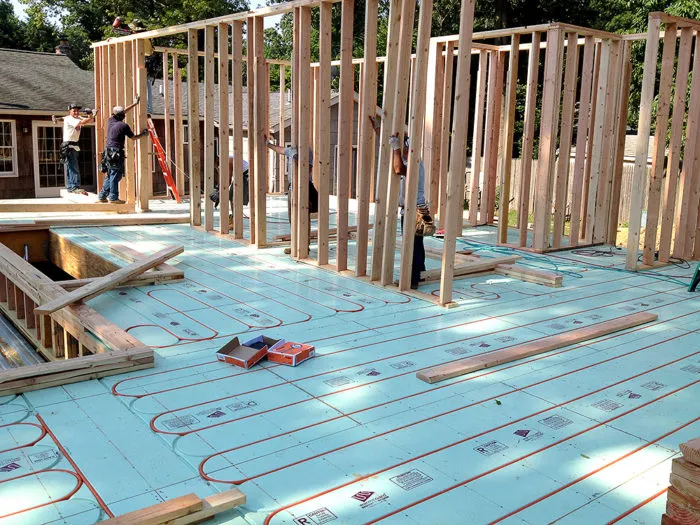 So-called radiant floors have an excellent reputation. Many customers report that this type of heating system is comfortable and quiet. Moreover, some suppliers of radiant floor materials and equipment claim that these systems can save energy.
In spite of the purported benefits of this type of heating system, few green homes include a radiant floor heating system. This article will explore why.
What shall we call these systems?
We've all seen ads for this type of heating system, including photos showing a barefoot mom watching her baby crawl across the floor. Using photos like this as a guide, is it possible to describe the heat transfer mechanisms in such rooms?
The mother's bare feet are being heated by conduction. The air near the floor is also being heated; as the warm air rises to the ceiling, it creates a convective loop. So the room is being heated by convection. And, if the floor is warm enough, the mother's bare arms are being heated by radiation.
In other words, all three heat transfer mechanisms are at work. So why is this a "radiant floor"? The phrase "radiant floor" is misleading, and should be abandoned. It's more accurate to say that this floor has "in-floor hydronic tubing."
Three ways to warm up your flooring
There are three types of heated floors:
Weekly Newsletter
Get building science and energy efficiency advice, plus special offers, in your inbox.
This article is only available to GBA Prime Members
Sign up for a free trial and get instant access to this article as well as GBA's complete library of premium articles and construction details.
Start Free Trial
Already a member? Log in