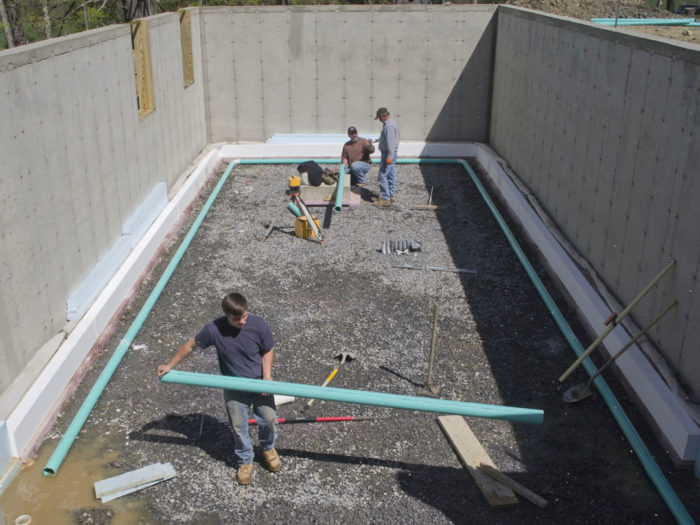 Several colorless, odorless gases can injure your health. For example, carbon monoxide can kill you in minutes. Radon takes longer — usually decades — to kill you, and (fortunately) death is less certain.
People who have lived for many years in a house with elevated levels of radon gas have a higher than average chance of getting lung cancer. Because of this risk, the U.S. Environmental Protection Agency (EPA) advises homeowners to test the air in their homes for the presence of radon. If testing reveals radon at levels above 4 picocuries per liter, you should probably arrange for a contractor to install a radon mitigation system in your house.
How does radon get into a house?
Radon is a naturally occurring radioactive gas that is present in outdoor and indoor air. Radon is produced by the natural decay of uranium, an element that is present in nearly all soils. Because of the stack effect, the lower layer of indoor air in most homes is at a negative pressure with respect to the outdoors, especially during the winter. This negative pressure draws soil gases into the home through cracks in the foundation: for example, through cracks between a basement slab and the foundation walls, through control joints in the slab, through cracks around water pipes that penetrate the foundation, and through sump pits. About 1 in 15 U.S. homes has a high level of indoor radon.
It's difficult to predict the radon levels in an untested home. High radon levels are possible in new homes as well as old homes, and in tightly sealed homes as well as leaky homes. According to GBA technical director Peter Yost, the following factors affect a home's radon levels: the radon concentration in the soil under the house; the moisture content of the soil (dry soil allows…
Weekly Newsletter
Get building science and energy efficiency advice, plus special offers, in your inbox.
This article is only available to GBA Prime Members
Sign up for a free trial and get instant access to this article as well as GBA's complete library of premium articles and construction details.
Start Free Trial
Already a member? Log in