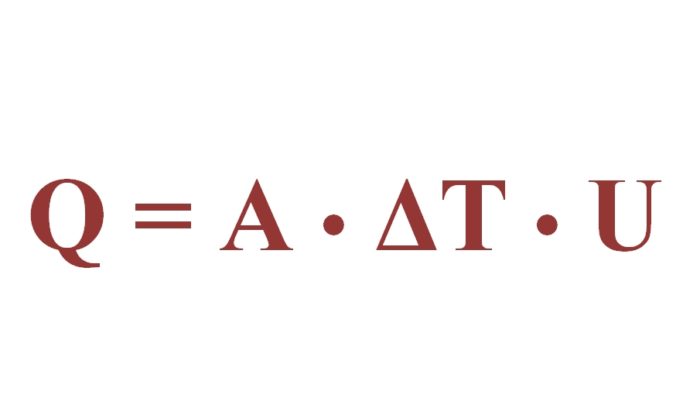 The familiar NFRC sticker found on most new windows sold in the U.S. includes a number in the upper left-hand box labeled "U-factor." For many homeowners and builders, an encounter with this sticker represents their first exposure to U-factor.
Once people understand that a window has a U-factor, they might learn that walls and ceilings can have a U-factor, too. At that point, confusion may begin.
It's U-factor, not U-value
U-factor is literally a factor — it's part of a mathematical formula involving multiplication. (We all remember factors from the 7th grade, right?) It is part of the well-known heat loss formula used by builders to determine transmission losses through floors, roofs, and walls:
Q = A • ΔT • U
In other words, the rate of heat flow through a building assembly (in Btu/h) is equal to the area of the assembly (in ft²) times the ΔT (in F°) times the U-factor (in Btu/ft² • hr • F°).
Delta-T (ΔT) is the difference between the outdoor temperature and the indoor temperature. For example, if the outdoor temperature is 20°F and the indoor temperature is 70°F, then the delta-T is 50 F°.
In short, the U-factor was invented to make this formula work for the peculiar British (or Imperial) units we use in the U.S. It's the number that you have to use to multiply a certain product (area times delta-T) in order to end up with a value we are interested in: Q, or the rate of heat flow in Btu/h.
The U-factor in this equation is not a constant. U-factor varies. U-factor will be relatively low for building assemblies with thick insulation (resulting in a low rate of heat flow through the assembly), and U-factor will be relatively high for building assemblies with thin insulation (resulting in…
Weekly Newsletter
Get building science and energy efficiency advice, plus special offers, in your inbox.
This article is only available to GBA Prime Members
Sign up for a free trial and get instant access to this article as well as GBA's complete library of premium articles and construction details.
Start Free Trial
Already a member? Log in