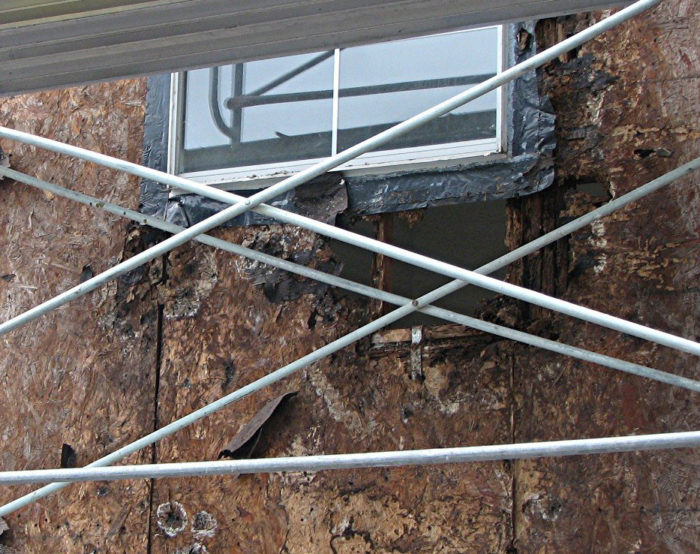 Contractors who specialize in repairing rotten walls won't run out of work any time soon. The epidemic of wall-rot problems that began more than 20 years ago shows no signs of abating. In fact, wet-wall specialists are often called to investigate problems in developments where most of the homes have rotting walls — and in some cases, these homes are only six years old.
You may be wondering, what does this topic have to do with green construction? The answer is simple: if a six-year-old house requires $40,000 of repairs because the walls have turned to mush, then the house wasn't very green — because rebuilding the house has an environmental impact.
Some people have called this an EIFS crisis, or a stucco crisis, or a leaky condo crisis. But wall rot isn't restricted to homes with just one kind of siding or one kind of sheathing; nor is it restricted to condominiums.
This isn't just an OSB crisis. Admittedly, OSB rots very quickly. Because of the speed at which it rots, Mark Parlee, a builder in Iowa who provided many of the photos shown here, calls OSB wall sheathing "vertical mulch." But plenty of walls with plywood sheathing and board sheathing have also turned to oatmeal. It just takes a little longer with plywood or boards than it does with OSB.
This isn't just a stucco crisis. While it's true that some types of siding are more forgiving than others — vinyl siding is the safest siding, while stucco and adhered manufactured stone are the riskiest — choosing the right siding won't be enough to keep you out of trouble, especially if your windows aren't flashed properly.
Scared? You should be
If you're a builder, and you still think that siding keeps walls dry, study the photos…
Weekly Newsletter
Get building science and energy efficiency advice, plus special offers, in your inbox.
This article is only available to GBA Prime Members
Sign up for a free trial and get instant access to this article as well as GBA's complete library of premium articles and construction details.
Start Free Trial
Already a member? Log in