About 82% of U.S. homes have a clothes washer. Each of these appliances is used, on average, to wash about 300 loads of laundry per year. On an annual basis, residential clothes washers use more energy than dishwashers but less than refrigerators.
In recent years, appliance manufacturers have developed washing machines that use less water than older models. The average full-sized front-loading Energy Star clothes washer uses about 15 gallons of water per load — and some models use less than 12 gallons — compared to about 23 gallons per load for a top-loading clothes washer without an Energy Star label.
Top-loader or front-loader?
Although there are a few exceptions, most clothes washers fall into one of two categories: they are either traditional top-loading (vertical-axis) models or newer, European style front-loading (horizontal-axis) models.
Front-loading machines cost more than top-loading machines, but (on average) they perform much better: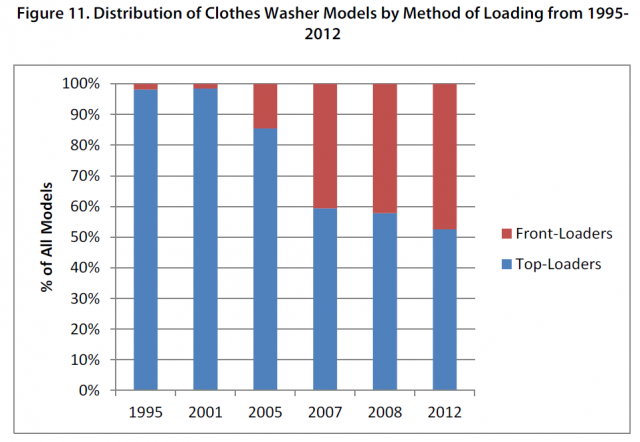 [Credit for bar graph: ACEEE]
Because of these many advantages, front-loading washers have acquired a dramatically increased share of the market for residential clothes washers in recent years.
Do efficient washers get clothes as clean as inefficient washers?
In 2007, after testing new energy-efficient clothes washers, Consumer Reports magazine reported that some washing machines performed poorly — in other words, they didn't get clothes very clean.
Fortunately, the magazine's latest article on clothes washers (August 2012) reported good news: the performance problems with the first generation of energy saving washers have been solved. The authors noted that "good cleaning, high efficiency, and large capacities are common features of the newest washers."
How important is it to wash in cold water?
If you have a clothes washer, you probably realize that doing a load of laundry involves the use of one, two, or three energy-using appliances:
A clothes washer;
Sometimes, but not always, a water heater;
Sometimes, but not always, a clothes dryer.
According to many writers, the most important step you can take to reduce the energy used to do a load of laundry is to switch from hot-water washing to cold-water washing. While following that advice will still save energy, the development of water-stingy clothes washers has made the advice obsolete.
These days, the best advice for those who want to reduce the amount of energy used for laundry is, "Use a clothesline."
Researchers have measured energy use and water use
For up-to-date data on the amount of energy and water that Americans use for laundry, it's worth reading a report written by two California researchers, David Korn and Lauren Mattison. The report, "Do Savings Come Out in the Wash?," was published in the January/February 2012 issue of Home Energy magazine.
Korn and Mattison measured the amount of energy and water used for clothes washing and clothes drying in 115 California homes. "In all, we studied 24 non-Energy Star clothes washers and 91 Energy Star-qualified clothes washers," the researchers reported. "The average electricity use of the 24 baseline machines — those that met the federal standard but were not Energy Star-qualified — was 0.21 kWh per cycle. The average electricity use of all 115 machines was 0.20 kWh per cycle. This small difference is not statistically significant."
That's right: Energy Star clothes washers use the same amount of electricity as clothes washers that don't have an Energy Star label. "Unlike other energy-efficient appliances, efficient clothes washers use about the same amount of energy as standard models. They save energy by using less water to wash clothes, and by removing more water at the end of the wash cycle, thereby allowing for shorter dryer cycles."
Energy Star washing machines may not save much electricity, but they do save water: "The average Energy Star machine used 55% less water than the average non-Energy Star machine."
It's no longer about hot water — now, it's all about the drying
Korn and Mattison explain that homeowners who wash clothes with cold water instead of hot water aren't saving as much energy as they used to. They wrote, "Efficient clothes washers use as little as 12 gallons of water per load. Hot water represents only a small part of this amount even for hot cycles." (After all, even when you choose the "hot wash" cycle, most washing machines use cold or warm water for the rinse cycle.)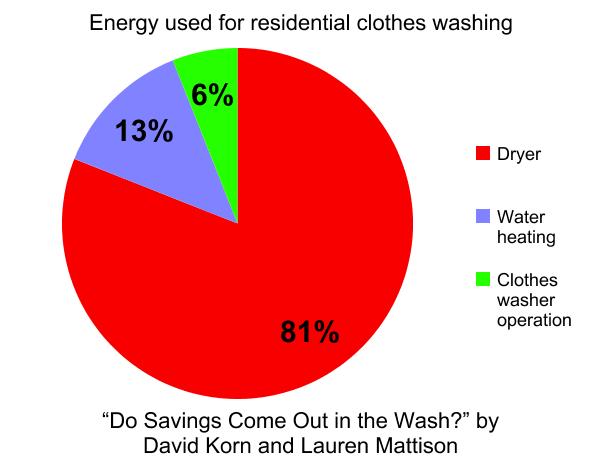 All of the homes where Korn and Mattison collected data had electric clothes dryers. The occupants of the homes were not given any instructions concerning whether to use hot water or cold water to wash their clothes; some chose hot, some chose warm, and some chose cold. The two researchers measured how much energy was used to operate the clothes washer, as well as how much energy was used to heat water for laundry and to dry the clothes. The largest energy use, by far, was for the clothes dryer.
For residential laundry, 81% of the energy used goes to operate the clothes dryer; 13% of the energy goes to heat water used for laundry, and only 6% of the energy goes to operating the clothes washer. (While the percentages will differ for homes with gas dryers, it's safe to say that clothes dryers use more energy than today's efficient washing machines.)
The bottom line: Use your clothesline! (For more information on clothes drying, see Alternatives to Clothes Dryers.)
Don't forget to consider standby power
Unlike older washers, newer models of clothes washers unfortunately have a measurable "phantom load" — in other words, they use electricity constantly, even when they appear to be "off." According to Korn and Mattison's measurements, this standby load averages 0.34 kWh per week.
Since a washing machine requires only 0.21 kWh per load of laundry, homeowners who only wash one or two loads of laundry per week will find that a significant percentage of the electricity used by their washing machine (45% to 62% of the machine's electricity use) is devoted to standby power. That's a lot.
Shopping for a new clothes washer
If you are an energy-conscious homeowner who is shopping for a new washing machine, you'll need to learn how machines are rated. The two most important metrics used by the federal government to rate washing machines are the modified energy factor and the water factor.
The modified energy factor (MEF) is calculated by dividing the clothes washer capacity (in cubic feet) by the power (in kWh) used for one load of laundry by the clothes washer and the clothes dryer; this calculation includes the energy required to heat water for one laundry load. Since the MEF calculation takes into account the energy needed to dry clothes, it rewards washers with a high-speed spin cycle. (High-speed spin cycles remove most of the water from damp clothes, reducing drying time.) The higher the MEF, the more efficient the washing machine. At this time, federal regulations require that residential clothes washers have a minimum MEF of 1.26. The minimum MEF for Energy Star clothes washers is 2.0.
The water factor (WF) is calculated by dividing the amount of water used for one load of laundry (in gallons) by the clothes washer capacity (in cubic feet). The lower the WF, the more efficient the washing machine. At this time, federal regulations require that residential clothes washers have a maximum WF of 9.5. The maximum WF for an Energy Star clothes washer is 6.0.
Efficient washers
If you are shopping for a clothes washer, you will probably be looking for a front-loader with an Energy Star label. Choosing a washer without an Energy Star label is false economy, since the upcharge for an Energy Star washer has a fast payback.
You want a model with a high MEF and a low WF.
If you follow this advice, you'll end up with a machine that uses electricity and water frugally. However, these newer machines take longer to wash clothes than older models. (Back in 2005, the average old-fashioned top-loading machine required 50 minutes per load. In 2012, the newer front-loaders average 79 minutes per load.)
If you are comparing the energy consumption shown on the yellow EnergyGuide labels, note that the kWh shown on the yellow label includes washer energy and water-heater energy, but not the energy used by the clothes dryer. If you care about how effective a washer is at spinning moisture from clothing — and you should — it makes more sense to compare MEFs than to compare yellow EnergyGuide labels.
There are several online databases that you may want to consult before you buy a new clothes washer:
Encouraging trends
Over the last two or three decades, clothes washers have gotten more efficient; moreover, somewhat surprisingly, they have also gotten cheaper. According to a document published by the Appliance Standards Awareness Project, "Between 1987 and 2010, real prices decreased by about 45% while average energy use decreased by 75%."
While recent improvements in appliance energy efficiency are commendable, history shows that most appliance manufacturers would never have improved the efficiency of their products unless the federal government had ratcheted up its mandatory appliance efficiency standards.
Finally, it's worth noting that appliance manufacturers still aren't very good at disclosing energy use or water use information. As writer and musician Michael Bluejay notes on his website, "Shame on washing machine manufacturers for not publishing specs. No U.S. washing machine manufacturer bothers to publish energy and water use per load specs in their user manuals or on their websites."
• • • • • • • • • • • •
Author's postscript: An unrelated update on garage door openers
[Back in July 2013, I wrote an article on garage door openers and phantom loads. In that article, I announced my intention to measure the phantom loads and energy requirements for several brands of garage door openers. Unfortunately, life intervened, and I haven't been able to measure many doors. However, I do have some limited data to report:]
The manufacturer of the LiftMaster 8550 garage door opener claims that its standby load is only 1 watt. However, according to my measurements, the actual standby power draw for this brand of garage door opener is 3 watts, putting the standby energy use of this device about in the middle of the range of openers tested by researchers from Lawrence Berkeley National Laboratory.
So the LiftMaster 8550 uses 72 watt-hours a day, or 26 kWh per year, to wait for a signal.
The door opener draws 118 watts when it is opening or closing the door; this operation takes between 12 and 15 seconds. If the door is operated 4 times a day, it uses only 2.0 watt-hours per day, or 0.72 kWh per year, to open and close the garage door. Under these circumstances, the garage door opener uses 36 times as much electricity to wait for a signal as it does to open and close the garage door.
The good news: even though most of the electricity used by the door opener is a "phantom load," the total annual electricity use isn't much. If used as described above, one garage door opener uses about $3.38 of electricity per year, while two openers use about $6.76.
Martin Holladay's previous blog: "Exhaust-Only Ventilation Systems and Radon."
Click here to follow Martin Holladay on Twitter.