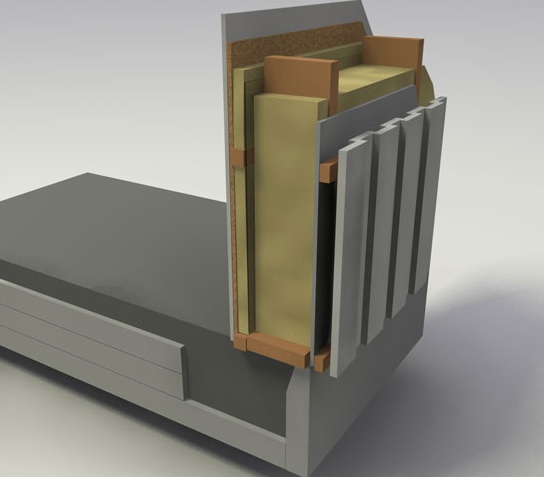 Update on Jan. 2, 2011: We've corrected the wall stud dimension noted in the caption.
Gregory La Vardera, an architect based in Merchantville, New Jersey, has geared his practice – which he operates in tandem with the interior-design practice of his wife, Karen – toward clients who have an interest in modern design or want to elaborate on a historic style. (He is among the contributors to FreeGreen, the architecture firm known for offering downloadable floor plans, some for free, some for a fee.)
But he's also interested in how buildings can be economically built to offer a high degree of energy efficiency, which is why green-building advocates might find his "Letters from Sweden" blog series worth checking out. On Friday, for example, La Vardera focused on wall-construction details (a "baseline" assembly, as he puts it) of a typical factory-built home in Sweden, noting that even though these wall systems in most cases include materials widely available the U.S., they are relatively energy efficient and airtight because Sweden's stringent energy code includes performance standards that haven't yet been widely embraced by manufacturers here. Building wall panels just to merely meet code requirements in most parts of the U.S., he adds, can make it hard for manufacturers to compete with the costs of simply doing the work onsite.
"With our cheap walls factory building makes little difference," La Vardera writes. "There is simply not enough value there to save very much. It's just as profitable to build onsite when your walls are so cheap and simple. The Swedes, however, use the factory to make every house very high in quality, and very energy-efficient. If we ever hope to do the same we will have to turn to a similar factory process."
A market where prefab is successful
The "Letters from Sweden" series also includes comparative observations on topics such as automated panel building in the U.S. and in Sweden, and, more broadly, why prefab has struggled on this side of the Atlantic but forged on successfully in Sweden, despite its relatively small population, to offer a wide range of design and custom construction options at competitive prices. La Vardera notes that the country's short building season has been a significant factor in making manufactured housing viable, but also points out that economic issues in the early 1970s, when energy costs increased sharply, created a market for factory building, whose leaders focused intently on introducing efficiencies into their operations.
Like most successful manufacturers in a conducive economic environment, Swedish housing manufacturers approach their operations, La Vardera says, so that "every aspect of the design is rationalized into a known quantity of work, material, and ultimately a known price that is both profitable and viable in their market. During the time their industry was reinventing itself, the various products and fittings that go into a house were all revised, improved, and updated to integrate into this industrialized process. Contrast this with our country where almost every home is built as a unique event on each site."
Weekly Newsletter
Get building science and energy efficiency advice, plus special offers, in your inbox.