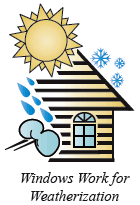 When your company is struggling to make ends meet, or you're out of work and your unemployment benefits are almost used up, patience can seem like an awfully tiresome virtue. Just ask the current and former employees of Republic Windows and Doors, whose factory in Chicago was shut down in December but later purchased by Serious Energy (formerly known as Serious Materials) and reopened in April with a partial staff. At this point only about 20 of the approximately 250 people who worked at the factory now have jobs there.
One of Serious Energy's great, heavily publicized hopes last winter was that the weatherization portion of the government's stimulus plan would boost retrofit activity in the Chicago area and, in turn, boost demand for the company's energy-efficient windows. While all that might still happen, the Serious Energy/Republic Windows factory is still operating at a loss, in part, a recent Washington Post story notes, because the company's former CEO, Richard Gillman, allegedly had begun looting and bankrupting the company. Gillman was arrested September 10 on charges of mail fraud, money laundering, organizing and continuing a financial crime enterprise, and felony theft.
More pertinent, though, is the fact that the stimulus-funded expansion of the weatherization program has rolled out very bureaucratically – which is to say more slowly than anticipated.
"Part of the Chicago plan was by now we'd be hot and heavy into weatherization of thousands of homes in the Chicago area," Serious Energy CEO Kevin Surace told the Post. "It turns out everything has ended up six months slower than everyone wanted. Everyone is frustrated at every level. Is it anyone's fault? No, it's just the process. Shame on all of us for thinking it could be done in a few months."
Promoting weatherization beyond WAP
Another issue, the Post story explains, is that window replacements typically account for only about 10% of weatherization investments in single-family homes, although they account for 50% of weatherization investments in multifamily buildings. Multifamilies represent about 17% of eligible projects in Cook County, which includes Chicago.
Of course meeting the needs of the low-income households that qualify for the government's Weatherization Assistance Program is only one part of Serious Energy's product strategy. Like those of most of its competitors, its windows (which offer an R value as high as 11) are designed for use in new residential and commercial projects and in retrofits undertaken by homeowners in middle-class income categories.
These prospective residential retrofitters are in fact the focus of "Recovery Through Retrofit," a 14-page government report released Monday that aims to encourage middle-class homeowners to weatherize.
Weaknesses and remedies
The report cites three issues that, beyond the WAP, have kept consumers from weatherizing their homes: inadequate access to reliable information about retrofits; lack of financing to cover the upfront costs of retrofits; and a shortage of workers skilled in retrofit techniques.
Among the report's suggested remedies:
1. Create a "national home energy performance measure" so that consumers have a reliable way to determine and rate the energy efficiency performance of their home;
2. Make it easier for state and local governments to create financing programs that allow homeowners to add the cost of retrofits to their property tax bill (several communities have already implemented such programs); and
3. Standardize training and certification for weatherization workers.
A White House blog on the report says that an interagency Energy Retrofit Working Group will submit an implementation plan to Vice President Joe Biden within 30 days, and then track whatever progress is being made on the recommendations.
For the workers awaiting a return to their jobs at Serious Energy's window factory, steps like these could be helpful, but for now they likely feel like running in place. Serious Energy's Surace told the Post he expects business to be thriving by mid-2010, noting that the company recently attracted $60 million from investors drawn by the promise of stimulus-propelled demand.
But for now, workers on the outside can only watch. "There aren't other jobs for them in this economy," Armando Robles, president of the United Electrical, Radio and Machine Workers of America Local 1110, which represented Republic Windows workers and also signed a contract with Serious Energy, told the paper.
Weekly Newsletter
Get building science and energy efficiency advice, plus special offers, in your inbox.