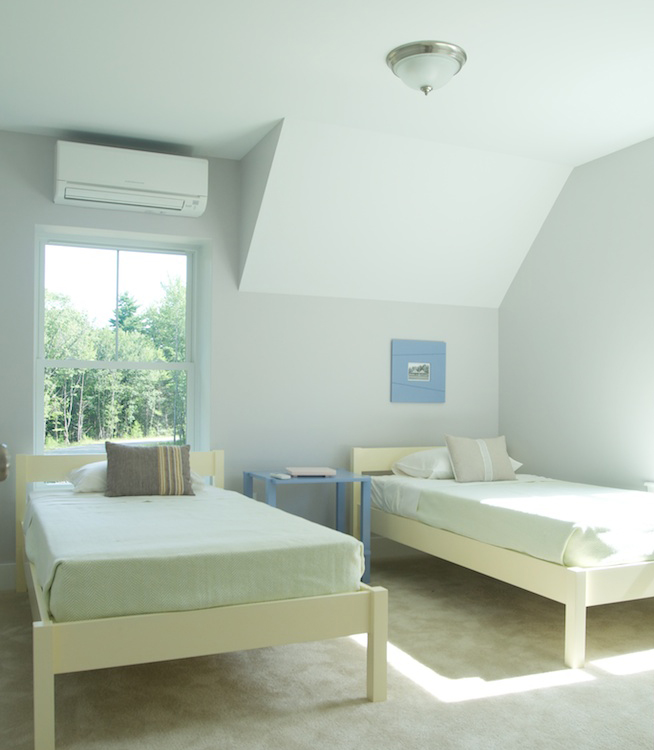 John Bell, building a 3300-sq. ft. house in eastern Pennsylvania, is weighing his options for heating and cooling, and it comes down to a conventionally ducted air-source heat pump or a multi-head ductless minisplit system made by Fujitsu.
Bell sought several quotes from contractors. The first proposal, parts of which gave Bell pause for thought, was for a 5-ton conventional heat pump. A second HVAC contractor thought that a 2.7-ton system would be enough. So Bell went for a third opinion and so arrived at the ductless minisplit option.
His real dilemma is deciding how to configure a ductless minisplit system in his extremely well insulated house. One bid includes seven minisplit heads.
Each of the heads would be connected to its own compressor outside, and Bell says both he and his wife have no problems with that. Nor will they mind looking at all those fan units on interior walls. He does wonder, however, whether this plan makes any sense.
"It might be overkill with that number of units," he writes in a post at GreenBuildingAdvisor's Q&A forum. "I will be ventilating the house with an UltimateAir ERV. I would like to go with the minisplits for the whole house, but I don't know anyone who has used them."
Any advice?
That's the subject of this month's Q&A Spotlight.
Why so many indoor units?
Bell plans on installing one minisplit head in each of the house's four bedrooms, one in the living room, one in the kitchen and another in the den.
He thinks that number of fan units would make for a more flexible, versatile heating and cooling system. When his children aren't at home, for example, their rooms can essentially be shut off.
Plus, he adds, by…
Weekly Newsletter
Get building science and energy efficiency advice, plus special offers, in your inbox.
This article is only available to GBA Prime Members
Sign up for a free trial and get instant access to this article as well as GBA's complete library of premium articles and construction details.
Start Free Trial
Already a member? Log in