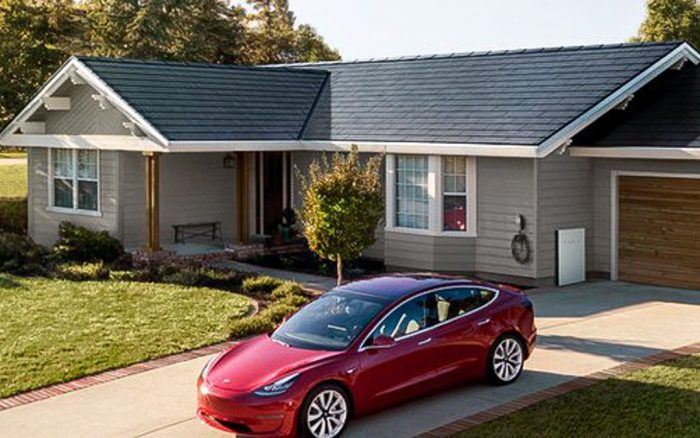 Those considering solar for their home have probably heard of solar shingles, solar tiles, and solar roofs. These solar-electric systems have photovoltaic cells integrated into the actual shingles or roofing tiles—a sleeker, more aesthetic alternative to large panels elevated on racks. They may also have heard that solar shingles have had technical problems and are very expensive. In fact, some solar-roof startups have failed, while others survive. So how cost effective are solar roofs, and should you consider one?
Are solar roofs cost effective?
One way to answer that question is to evaluate the leading product in this category—Tesla's third-generation Solar Roof, the most cost-effective solar roof currently available with the most advanced technology. At $2.11 per installed watt*, the Tesla system beats out DeSol Power Tiles (at about $7  per installed watt*) and Luma Solar Tiles (at about $4.50 per installed watt*) on cost.
It has been shown in one case study, using California electric rates, that the cost of the Tesla Solar Roof can be 53% less than the cost of replacing your roof and purchasing the electricity over 25 years to power the home. Presumably, this would apply to new construction as well as roof replacement. However, the savings would be less in states with lower electric rates, and in existing homes the cost savings depend on having an old roof that needs replacement.
If your roof is ready for replacement or if you are building a new home, the remaining question is how does the Tesla Solar Roof stack up against adding a racked solar system to a standard new roof? Is it worth the money? What are the other pros and cons of a Tesla Solar Roof?
Cost comparisons
In one comparison*, installing or replacing an entire 2000-sq.-ft. roof with the Tesla Solar Roof cost $42,500 versus $34,400 for a standard asphalt-shingle roof with a traditional racked solar system, both with the same 10kw power output. That comes to $2.11 per watt (or $21/sf) for Tesla versus $1.85 per watt (or $17.40/sf) for a standard solar system on a shingle roof. But what if you compare the solar roof to a higher-end, more-attractive, longer-lasting roof? One cost estimate found that the Tesla Solar Roof was considerably cheaper than higher-end roof options, such as metal, tile, or slate, with a racked solar array.*
Tesla solar roof = $56,000
Solar array and shingle roof = $42,000
Solar array and metal roof = $70,000
Solar array and tile roof = $111,000
Solar array and slate roof = $134,000
Clearly, the Tesla Solar Roof can provide significant cost savings over combining standard solar panels with other high-quality, aesthetically pleasing roof types. Now let's consider other pros and cons of a Tesla Solar Roof.
Pros of the Tesla Solar Roof
There are two types of tiles in a Tesla Solar Roof: Solar tiles with integrated PV cells protected by a durable glass surface and non-solar tiles that are metal and fill in areas of the roof that aren't suitable or necessary for solar generation. Both tiles are 45 in. by 15 in. and look identical, creating a uniform, aesthetically pleasing look.
According to Tesla, the tempered-glass solar tiles have three times the strength of standard roofing tiles and are more durable than slate or tile roofs. They come with a waterproofing underlayment, flashing, and a ridge cap. The roof is customized to each home and is warrantied against hail damage up to 1-3/4-in.-dia. hail. It is fire-rated Class A UL790—the best fire rating—and has a 130 mph wind warranty.
A Tesla Solar Roof can be installed on a roof pitch ranging from a maximum of 20-in-12 to a minimum of 2-in-12. The cost includes removing the old roof and installing the new one. Tesla-certified contractors coordinate the entire process, including the initial design, the removal of the current roof, installation of the new solar roof, permitting, and ongoing support. Tesla claims that the removal of the old roof and the new installation could be done in 8 to 9 hours, but in reality it may take much longer depending on the installer's schedule.
The solar system loses no more than 0.5% of its capacity per year and Tesla claims a 30-year operating life—similar to other solar-electric systems. In reality, most high-quality solar systems may still provide 75% of the initial energy production capacity when 50 years old, and the Tesla Solar Roof should, too. Tax credits for a Tesla Solar Roof are based on the cost of the entire solar roof, not just the solar tiles. The solar roof can be integrated with the Tesla Powerwall battery and solar app to optimize solar storage.
The cons
A disadvantage of Tesla's Solar Roof is that you can only use Tesla-certified contractors, which may result in a longer wait for installation. But that can also be an advantage, because they fully understand the installation of the product. Another drawback is that the solar roof is available only in some zip codes of 16 states.** It is "coming soon" to other areas. The warranty against defects on the roof tiles and on the solar tiles is 25 years, no better than most warranties on an asphalt roof with a standard racked collector. The warranty is not nearly as good as many metal-roof warranties (as long as 30 to 50 years), some tile roofs (up to 50 years), and slate roofs (up to 75 years).
A Tesla Solar Roof is designed to work with the Powerwall, which combines a string inverter with lithium batteries. As a result, the Solar Roof does not have microinverters, so shading some of the solar tiles will reduce production of the entire system. Solar Roofs currently are not recyclable, whereas metal, slate, and tile are. The Tesla roof is available only in textured black tiles, although other finishes and colors will be offered in the future, according to the company.
Would I purchase a Solar Roof?
Having installed several rack-mounted PV systems on new, zero-energy homes and retrofits, I would certainly consider installing a Tesla Solar Roof in both situations. Why? For one, it is less expensive than other high-end roofs, and you have to deal with only one contractor instead of a roofing contractor and a solar installer. You don't have the dozens of penetrations in the roof that come with a racked system.
Most important, in many areas, including mine, wildfire is a big concern and the Tesla roof has a great fire rating. A metal roof with racked PV would be a good choice for fire prevention, but hail is another matter. We have a fair number of hail storms here and I have seen my neighbors' metal roofs get badly damaged by hail, as may tile and slate. The Solar Roof has a reasonably good warranty for hail damage. Aesthetically, I prefer looking at a tile roof that is not interrupted with rack-mounted solar collectors, and I like the look of the black textured tiles.
Because it is the least expensive and most technologically advanced of the available solar roofs, Tesla's Solar Roof is currently the best gauge of the status and cost-effectiveness of solar roofs. Even though evaluating the pros and cons of this system compared to others is a complex endeavor, when I build or retrofit my next zero-energy home, I will definitely consider it. Of course I will check prices and conduct my due diligence, as I recommend everyone do.
The Solar Roof potential
If the Tesla Solar Roof lives up to its potential as a cost-effective, aesthetically pleasing, and durable system, it will greatly expand the number of homeowners willing to go solar and will be used widely in zero-energy homes. If costs come down for the Tesla Powerwall, the integration of the Solar Roof and the Powerwall will increase the storage and production of renewable energy, speeding the development of fully renewable energy grids.
Footnotes:
*Since there are so many variables at play, such as roof size, roof complexity, local costs for materials and labor, and efficiency of different PV systems, this comparison is meant only as an example. The key is to get several estimates and compare warranties to determine the actual cost-effectiveness comparison in your specific situation.

** The Tesla Solar Roof is currently available in most zip codes in the following states: CA, OR, WA, TX, NV, NM, FL, IL, NY, NJ, PA, RI, NH, MA, VT, and CO. Check with Tesla if your state is not on this list, because its market area is steadily expanding.
---
-Joe Emerson is a co-founder of the Zero Energy Project, where this article first appeared. It is republished here with permission.
Weekly Newsletter
Get building science and energy efficiency advice, plus special offers, in your inbox.