Seal air leaks first; then add extra insulation for an energy-saving improvement with great bang for the buck
by Mike Guertin
#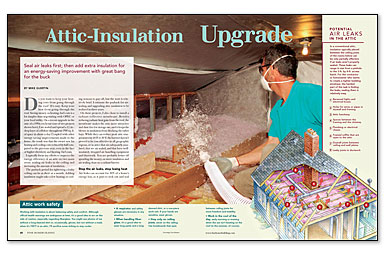 Although it's easy to think of big things when you're looking for places to cut energy costs (replacement windows, anyone?), the first steps to take involve insulation in your home. FHB contributing editor Mike Guertin guides you through some relatively low-cost techniques for upgrading your home's insulation. He begins by sealing air leaks, such as the gaps around recessed lights and electrical boxes, plumbing or electrical chases, framing and a chimney, and more. Guertin includes a guide to finding the best air sealant for the job. He then recommends tuning up existing insulation, whether fiberglass batts or loose-fill cellulose. In conclusion, Guertin outlines the process for blowing in loose-fill insulation, which he says is a two-person job.
Weekly Newsletter
Get building science and energy efficiency advice, plus special offers, in your inbox.
This article is only available to GBA Prime Members
Sign up for a free trial and get instant access to this article as well as GBA's complete library of premium articles and construction details.
Start Free Trial
Already a member? Log in