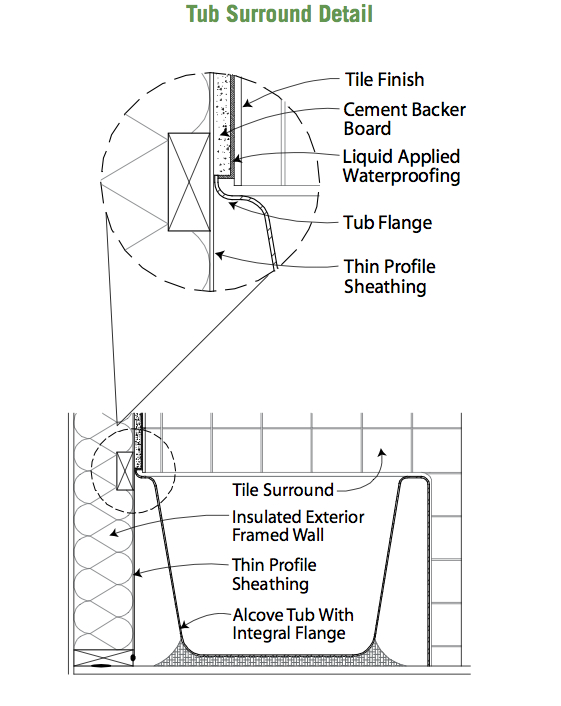 I sat down one day and figured this out: two people each taking an 8-minute shower every day is equivalent to the tub surround seeing 100 inches of driving rain a year. That means we should be building our wet walls for tub and bath surrounds with the best moisture management we can muster. And just about everyone agrees that means using a non-paper-faced tile backer board. The question remains: which non-paper faced tile backer board?
Enterprise Green Communities Criteria Checklist
For those of us working with Enterprise Community Partners, the reference to consult is the Green Communities Criteria Checklist. It states:
"7.9b: Materials in Wet Areas: Tub and Shower Enclosures. Use fiberglass or similar enclosure or, if using any form of grouted material, use backing materials such as cement board, fiber cement board or equivalent (i.e., not paper-faced)."
Types of backerboard to consider
There are four major types of non-paper faced tile backer board from which to choose: cementitious, coated glass mat, fiber cement, and fiber-reinforced gypsum board. Only the first three are appropriate for wet areas, such as tub and bath surrounds.
Cementitious boards have a cement core and glass mats on both sides to strengthen the board. Common examples include Wonderboard and Durock. These boards are relatively heavy and hard to cut, but they are very durable, dimensionally stable, and have a great bonding surface. While they don't "care" if they get wet, they are not waterproof.
Coated glass mat boards typically have a gypsum core with glass fibers sandwiched between fiberglass surface mats. The most common example is GP's DensShield. DensShield has a waterproof surface and water-resistant core. It is much lighter and easier to cut than cementitious boards.
Fibercement backer boards have reinforcement throughout the core but no differential facings. The most common examples of this type of backerboard are Hardiebacker and CertainTeed's fibercement backerboard . In both cases, the fiber is wood rather than glass. These backerboards are less expensive than other backerboards and are relatively easy to cut and while moisture-resistant, they are not waterproof.
The last type of non-paper faced backer boards are fiber-reinforced gypsum boards. These boards, while moisture-resistant are only appropriate for areas experiencing infrequent wet conditions. They include USG's Fiberock. While these are great non-paper faced backer boards, they are NOT recommended for truly wet areas like a tub or bath surround and should only be used where wetting potential is slight.
Material Considerations
A primary material concern for cementitious and fiber cement backerboard is the energy intensity of portland cement production. Fly ash, a byproduct of coal combustion, is sometimes used as a less energy intensive replacement for portland cement. Given recent scrutiny, the GBA Product Guide (based on BuildingGreen's GreenSpec) only supports fly ash use where it reduces embodied energy of the product and is chemically or physically locked up so that the risk of leaching is kept acceptably low—such as in cementitious products (EBN editorial on flyash).
GreenSpec uses publicly available information like MSDS to gather information on the ingredients in a product. Not all ingredients are listed on MSDS though. At times, GreenSpec will pester manufacturers and other industry-insiders and dig into patent literature in order to find whether there are unlisted ingredients of concern—particularly if the team becomes aware of a potential issue within the category. GreenSpec has recently partnered with the Healthy Building Network's Pharos project (http://www.greenspecpharos.com/) in order to better support that kind of deeper dive. Pharos has not yet addressed backerboard; GreenSpec (and consequently the GBA Product Guide) takes a pragmatic approach, basing judgment on the currently-available information.
Care should be taken when cutting any board product, particularly ones with silica, as airborne crystalline silica is a potential carcinogen. Products that can be easily scored instead of cut are preferred.
While paper-faced gypsum board is recyclable and often made from recycled content, no backerboard product we are aware of is easily recycled—if there were, that would be a plus.
Based on all this information, a stand-out product is one like DensShield because it has superior moisture performance and has a lower-embodied energy gypsum core.
For more information on this topic, see Fine Homebuilding: Tile Backerboard Options.
Weekly Newsletter
Get building science and energy efficiency advice, plus special offers, in your inbox.