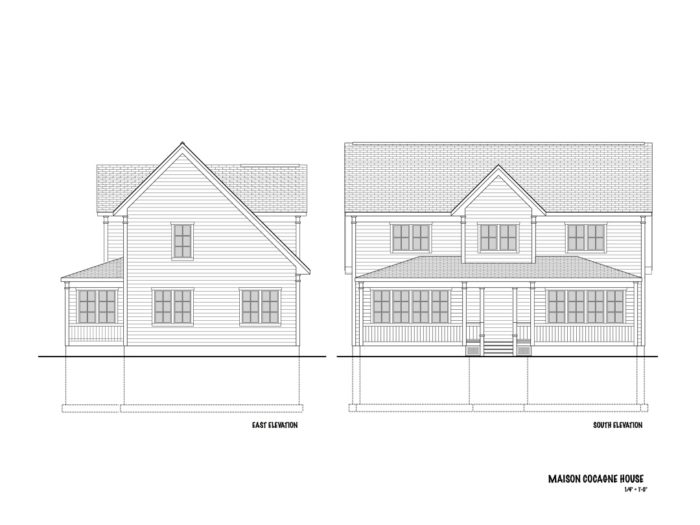 Richard Lachance, an architect, spent 22 years working in the Missouri state park system before relocating to Cocagne, New Brunswick. He now researches "the transition to a new economy," including the role of energy-efficient housing design.
Cocagne is a small community at the mouth of the Cocagne River in this Canadian Martime province. Across the Northumberland Straight is Prince Edward Island. Given its location and sometimes harsh weather, LaChance's interest in superinsulated house design makes sense.
Lachance's blog, NB Superinsulated House, doesn't explain how or why he ended up in Cocagne, or exactly what he did as an architect in Missouri. But in a post from January 2010, shortly after he launched his blog, he wrote: "Why would I propose the use of superinsulation building techniques is the design of a new home or business? The rationale comes down to intentional living. We are faced with choices throughout our lives, but all too often we do not make conscious decisions. We rely too heavily on the status quo. We find comfort in following the mainstream. My wife and I have made the decision to develop a lifestyle based upon our own intentional choices. The concepts of superinsulation would be one of those choices."
It is one of the few personal asides in this all-business look at how to design super-efficient houses. If you don't visit the site for philosophical anecdotes about life in Canada, you may find something of interest in one of the numerous small house designs that Lachance proposes. They are efficient, superinsulated, and well adapted to the climate. A number of them are very small.
Inspired by traditional homes in the Canadian Maritimes
Lachance explains that he has been working with the Cocagne Sustainable Development Group on superinsulated designs based on Passivhaus concepts. He covers the basics of this highly efficient building model — high levels of insulation, airtightness, whole-house ventilation — that can save 75% of the energy costs used to heat and cool a conventionally built house.
"What I have found is a general lack of actual details and drawings that incorporate passive house design," Lachance writes. "The designs and details that I will be sharing on this blog are derived from many of the principles that Passivhaus and PHIUS [Passive House Institute U.S.] have developed. I will not, however, try to demonstrate how my designs and details are in complete compliance with all Passivhaus standards. While it is important to acknowledge the science behind passive design, residential housing has developed through commonly held and known practices. The Canadian R2000 program has developed many of the building practices and techniques that will be required for future superinsulated homes.
"The designs and details I will share are based upon traditional or vernacular housing types that are common to the Maritimes. These traditional housing types were developed in response to the environment and culture of this region."
Here's a look at two of the house designs that Lachance details. The general descriptions that Lachance provides are supplemented by links to detailed construction drawings, which he invites readers to download and use.
Maison Scoudouc House Plan 'A'
This 512-sq. ft. "mini-home" is intended for a single person and is in line with what Lachance says is a recommended 500 sq. ft. per person for a basic superinsulated house.
The house has a galley kitchen and open living room. Instead of a conventional bedroom, it has a sleeping alcove with nearby closets and drawers under the bed. The only room in the house with a door is the bathroom.
It uses an ICF (insulated concrete form) crawl space foundation, double 2×4 stud walls insulated to R-45, triple-glazed casement windows and raised-heel roof trusses insulated to R-60.
Lachance actually offers three other similar houses, each a little larger than the last. The biggest of them is still only 688 sq. ft.
Maison St. Thomas House
Lachance designed this one-bedroom, 960-sq. ft. house for a friend in neighboring Nova Scotia. It was to be built into a hillside with both southerly and easterly views.
The house was not originally intended as a superinsulated design, but it has been modified with more insulation, triple-glazed windows and a heat-recovery ventilator.
The upper level incorporates public spaces — the living room and kitchen — as well as a pellet stove with a source of outside combustion air provides.
The lower level of the house, sheltered by the earth on the north and west sides, is for single bedroom, the bathroom and a small mechanical room. It opens to a walk-out patio or garden on the south, which could be enhanced with a covered porch.
Weekly Newsletter
Get building science and energy efficiency advice, plus special offers, in your inbox.