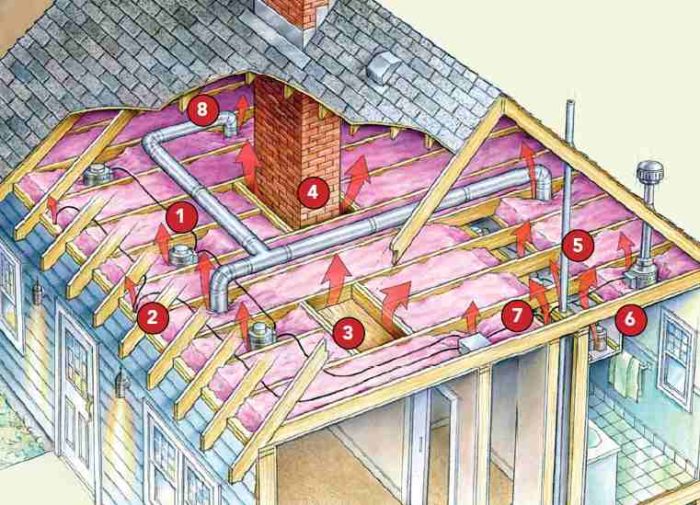 There are two ways to seal potential air leaks in homes: You can either seal seams that you anticipate will leak, or you can seal leaks that become evident when a blower door is used to depressurize the house. This second method of air sealing is known as "blower-door-directed air sealing."
Blower-door-directed air sealing is a method that was developed in the 1980s by weatherization specialists supported by the Weatherization Assistance Program (WAP), a 42-year-old federal agency that funds air-sealing and insulation work in the homes of low-income families.
Blower-door-directed air sealing for new construction
Some builders of new homes perform multiple blower door tests at each home they build, using each blower door test as an opportunity to improve on the previous results. More commonly, a builder will arrange for a single blower door test, to be performed as soon as the home's primary air barrier is complete.
If a house has a vented unconditioned attic, the primary air barrier usually includes the wall sheathing and the ceiling drywall. Assuming that the drywall contractor can visit the job site to install the ceiling drywall early in the construction process, the blower door test is performed as soon as the following steps are complete: the wall sheathing, roof sheathing, roofing, windows and doors, and ceiling drywall. (If your airtightness target is ambitious, you might conduct a second round of blower-door-directed air sealing after the electrical and plumbing rough-in, wall insulation, and drywall work is complete.)
If the house has an unvented conditioned attic, the first (perhaps only) blower door test would be performed as soon as the wall sheathing, roof sheathing, roofing, windows, and doors are installed.
If a builder simply wants to know the home's air leakage rate, the blower door operator sets up quickly, determines cfm at…
Weekly Newsletter
Get building science and energy efficiency advice, plus special offers, in your inbox.
This article is only available to GBA Prime Members
Sign up for a free trial and get instant access to this article as well as GBA's complete library of premium articles and construction details.
Start Free Trial
Already a member? Log in