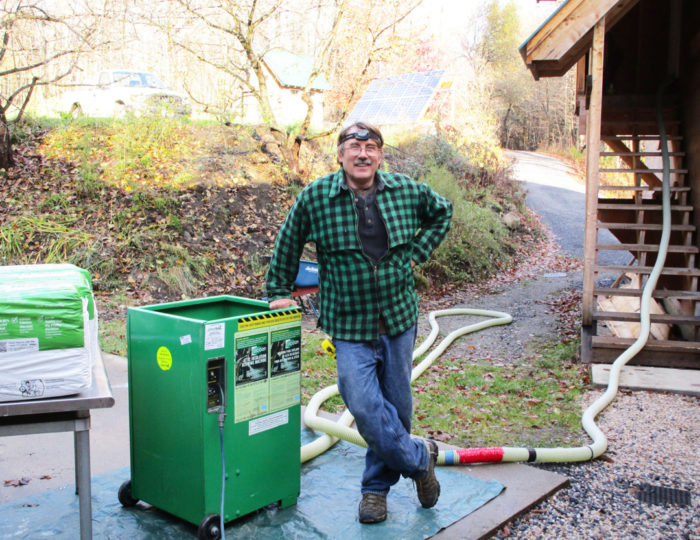 Back in the early 1990s, I worked for a nonprofit agency, overseeing renovation work at several old wood-framed buildings in St. Johnsbury, Vermont. Each of these century-old buildings had between two and five apartments; after renovation, they were rented to low-income families at subsidized rents.
Almost all of these buildings received similar weatherization measures: empty stud bays were filled with dense-packed cellulose; attic floors received a new layer of deep cellulose; and air leaks were reduced with blower-door-directed air sealing. These retrofit jobs convinced me that cellulose insulation was versatile, affordable, and effective.
In 2000, while serving on our local school board, I helped develop the scope of work for energy improvements at our town's elementary school. The floor of the school's attic had a thin layer of fiberglass insulation, so I made sure that the retrofit specs called for the installation of a layer of thick cellulose on top of the fiberglass. Once the job was complete, I climbed into the attic to verify that the cellulose met specifications. (Unfortunately, it didn't — the layer was too thin — so the contractor had to come back and add more.)
Although I've been involved with many construction projects that specified cellulose, I haven't installed any of the stuff myself. (Most of my construction experience dates back to the 1970s and 1980s — the bad old days when fiberglass batts ruled the roost.)
Last year, with the help of friends and family, I built a garage. The garage has a second floor which I am gradually transforming into a guest room. This summer, my brothers and sons finished drywalling the ceiling and walls of the second floor, so the next step was to blow cellulose in the attic. This was an easy one-day job, and there were three willing workers…
Weekly Newsletter
Get building science and energy efficiency advice, plus special offers, in your inbox.
This article is only available to GBA Prime Members
Sign up for a free trial and get instant access to this article as well as GBA's complete library of premium articles and construction details.
Start Free Trial
Already a member? Log in