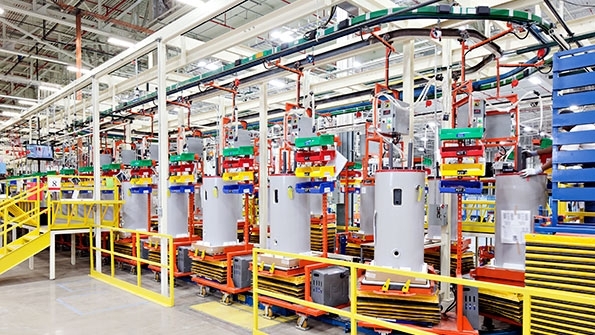 Bradford White will pick up where GE Appliances left off as it buys the production equipment GE used to make the GeoSpring heat-pump water heater and moves it to its own facilities in Michigan.
Citing low sales, GE Appliances stopped general production of the GeoSpring last month. The company has been selling the water heaters to Bradford White, which rebadged them as AeroTherm water heaters. The deal allows Bradford White to continue making and selling the appliances without interruption.
Terms were not announced.
A GE Appliances spokeswoman said the company is under contract to continue producing the water heaters for Bradford White until March in its Louisville, Kentucky, plant. After that, the manufacturing equipment will be moved to Middleville, Michigan, where Bradford White will begin making them.
According to a report at The Wholesaler, the move is expected to take a couple of months. In the interim, Bradford White will continue filling orders from its inventory.
AeroTherm water heaters, like the GeoSpring, are produced in 50-gallon and 80-gallon versions. Heat-pump water heaters are twice as efficient as conventional electric water heaters, but they also cost two or three times as much. GE Appliances launched the GeoSpring in 2012 but sales never matched company expectations. Overall, heat pump water heaters are "a very small segment" of the total market, roughly 60,000 units a year, according to GE Appliances.
Bradford White Corp. executive vice president and COO Bruce Carnevale told The Wholesaler: "With GE Appliances' announcement that they were exiting the business for this product, we saw the opportunity to acquire the assets and continue to be able to provide our customers with best-in-class heat pump water heaters and still build them in America."
As part of the agreement, The Wholesaler reported, Bradford White will extend its around-the-clock customer support to existing GeoSpring water heater owners.
Weekly Newsletter
Get building science and energy efficiency advice, plus special offers, in your inbox.