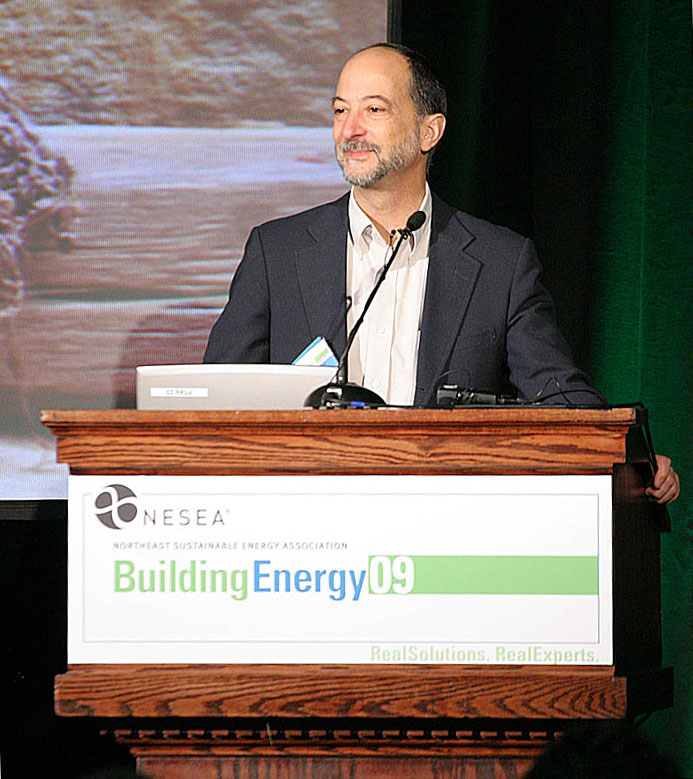 The official theme of this year's NESEA conference was "Real Solutions, Real Experts." But that's kind of a cop-out. NESEA's conference is always filled with experts and solutions every year. The unofficial theme, it seemed to me, was "How Deep is Your Deep Energy Retrofit?"
A keynote address from deep in the energy trench
Marc Rosenbaum ("I are an engineer") wove his keynote address from peak oil to deep energy retrofits with a side trip to whether or not LEED-certified buildings use more energy than code-compliant buildings (a commentary on the conference's public forum
).
Deep energy retrofits are the most important part of the housing sector because of the number of existing houses compared to the number that are being built (there are about 160 million existing houses, about 60 million of which were built before the energy embargo of '73 — meaning that they're really leaky). Despite what the lobbyist group for commercial real estate developers claims
, Marc and many of the NESEA attendees are proving that super-efficient buildings are old news — they're possible, affordable, and easy to accomplish.
Marc then took us on a tour of a few deep energy retrofits that his company, EnergySmiths
has been working on. The slide show of his presentation is here
if you want to have a peek at some of the projects.
What Would Mother Nature Do?
After the keynote, I headed off to the hour-and-a-half sessions: First stop, Ecological Sensibility in Home Building (with a healthy dose of biomimicry thrown in). The presenter, Kevin Stack
, is a builder in upstate New York who does many things right. Kevin focused most of the presentation on new construction, but much of his emphasis was on site work, which most ecologists would qualify as retrofit work.
Among one of the more interesting tidbits of Kevin's talk was using exterior Velcro (the design for which came from nature) to attach siding. There are no nails to penetrate the sheathing, and it's a built-in rain screen. The Velcro, Kevin said, would delaminate plywood and pull the foil facing off polyisocyanurate foam board before the adhesive pulled off. He's only two years into this test, so it's still early, but "so far, so good," he reports. Look for Kevin and his houses to be appearing in GreenBuildingAdvisor.com sometime soon.
What Would Dr. John Do?
Next up was John Straube
's "What Would I Do?" session. Dr. Straube took us on a journey of his (and his gal Victoria's) deep energy retrofit of a bungalow (which looked suspiciously like a ranch to me) in Toronto. One tip from Dr. Straube: Buy an ugly house that has bad siding. Why? Because it's easiest to do energy retrofits from the outside, and it's easy to justify tearing off bad, ugly siding. According to Straube, a simple shape is better because it's easiest to keep the air, thermal, and water barriers continuous.
John used a modified Larsen truss to thicken the outside walls so that he could spray five or six inches of foam on them. He drove gutter spikes through a 2×2, used a three-inch scrap of PVC pipe as a standoff, and then drove the gutter spike/2×2 into the walls. A pretty quick, cheap, and elegant solution. He kept the vented roof and flat ceiling, making sure to seal all the leaks between house and attic with a Froth-Pak before filling the attic with cellulose. Let me repeat that: filling the attic with cellulose (except for the vent channels, that is). His reasoning? Cellulose is cheap, and the majority of the cost is getting the guy into the truck and out to the house. A few extra minutes and a few extra bags of insulation only cost a few extra bucks.
As for R-values, John quit counting after R-60. The basement was detailed like all Building Science Corp. basements — rigid foam and a thin concrete slab on the floor, spray foam on the walls followed by a stud wall and drywall. Dr. Straube's presentation
"Don't Do What Paul Eldrenkamp Did"
The last session of the day before my long drive home was a tag-team session with Paul Eldrenkamp of Byggmeister Construction
and Mark Rosenbaum of EnergySmiths. I already talked about Marc (let's just say he had microphone troubles again), so I'll stick to Paul. Paul presented a series of stories and lessons learned in the deep energy retrofit arena.
The lessons:
1. Deep energy retrofits aren't always about insulation.

They're also about how people who live in houses use energy.

2. You have one chance to get the envelope right every 30 or 40 years. Don't blow it.

The easiest way to tighten the envelope is from the outside: Replace the siding, add foam, tighten, and replace windows. It's now or never.

3. Every now and then, stop and think about whether you're doing the right thing as a builder. Consider the types of projects that you do and don't do. Paul decided to focus on deep energy remodels and lost a million-dollar contract because the potential customers weren't interested in using less energy. It was hard to lose the job, but it was the right thing for his company to do.
4. Much of our nation's climate policy is being determined by the sales skills of remodeling contractors. Related to the above lesson. Most deep energy retrofits aren't economically justifiable until the energy costs are real and they reflect the true cost of consuming. Remodelers that can succinctly explain to customers the real costs and benefits of energy-efficient houses can help us out of our energy quandary faster than Congress can. Hint: Payback doesn't reflect future energy cost increases or better health.
5. Don't be unduly scared of people named Joe.
6. Don't install interior finishes until after the blower door test. Don't assume that foam insulation is foolproof; experiment responsibly, and monitor for durability.
All in all, the best little conference out there. I go every year because the people at this conference know the answers to the big questions and are enthusiastic about digging in. Some other conferences are full of people who complain about having to change and look for ways to drag their feet.
Weekly Newsletter
Get building science and energy efficiency advice, plus special offers, in your inbox.