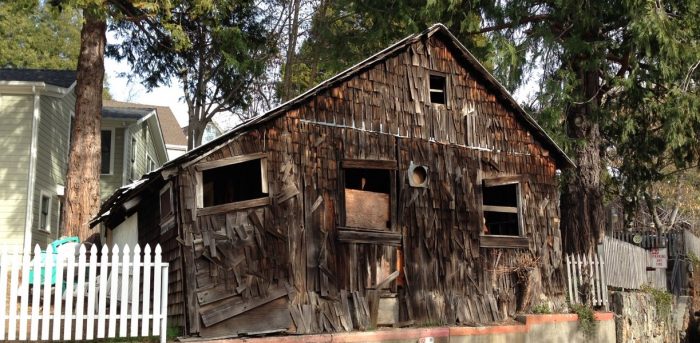 The old shack above has been around a long time. It still looks good in its old age, but you'd probably have to pour a lot of money into that building to make it useful again.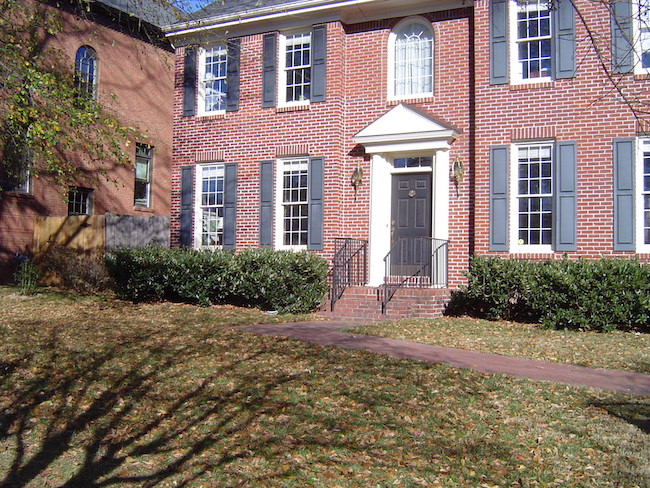 This home looks nice, too. It doesn't appear to be all that old. The inside was nicely decorated and the family I met there in 2006 seemed happy with it. Despite that, one of the owners told me she had been told that, just because of the neighborhood they were in, their house was a good candidate to become a teardown. Yeah, it seems crazy, but real estate values different things than real people do.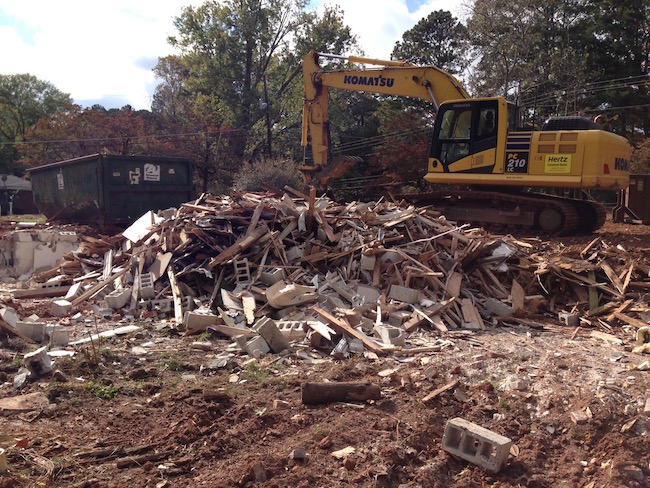 That pile of rubble is not the previous house. But it was somebody's house at some time. From the outside, it didn't seem to be in a terminal state of decay. It just happened to be in the wrong place at the wrong time and became another teardown.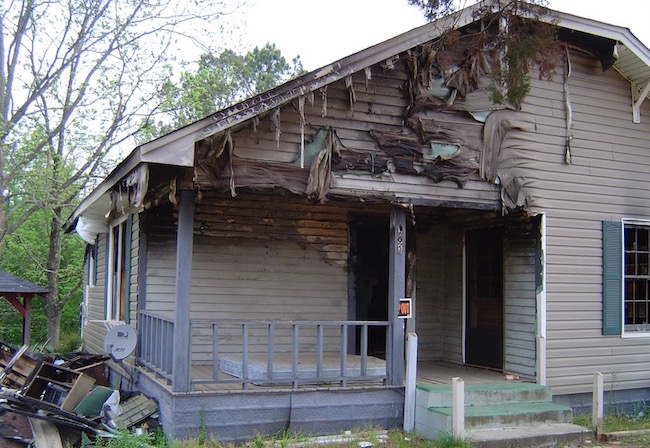 Some houses die more catastrophically. Fire, of course, is an easy way for them to go. And water. Just ask the people who lost homes in hurricanes Katrina, or Harvey, or Michael, or…
Why do we improve homes, then?
If buildings aren't permanent, why bother making them better? Why worry about duct leakage and infiltration and the efficiency of the heating and cooling systems? That house we improve may burn down or be torn down before the investment becomes justified, right?
We may never know how long any building will last or how useful it may be while it's still standing, but we work to improve them nevertheless. Buildings represent investments of time and money and materials. We don't want to squander those investments.
Buildings account for about 40% of energy consumption and the greenhouse gas emissions that go with that. They use the great majority of all the electricity generated. We also spend about 90% of our lives in buildings.
Buildings provide shelter, yes, but they also do much, much more than that. They provide comfort. They're places where we raise families. We keep our stuff in them. We work on projects there. We entertain. We educate. We have a lot of emotion associated with buildings. My grandparents house was a very special place for me, as it was indelibly tied to the feelings of love and security I felt there.
So, despite not knowing how long a particular building will last, we have plenty of reason to improve buildings.
Buildings aren't permanent…and neither are people
One year ago this month, Mike Rogers died of cancer. He was 54.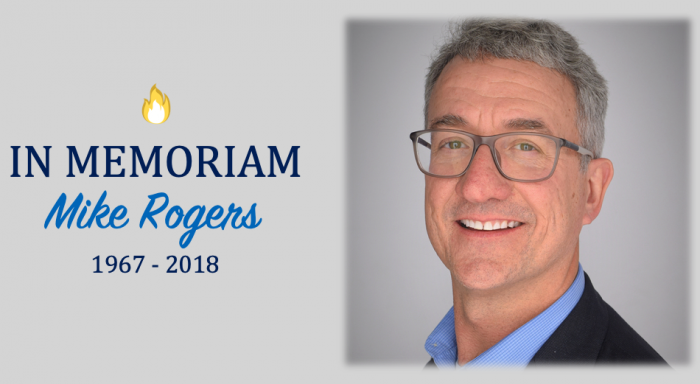 I knew Mike for nearly a decade. He was big person with a big personality and an even bigger heart. You can read a tribute to Mike in Home Energy magazine and another one by Amy Beley at Pearl Certification.
Mike was absolutely dedicated to the mission of improving homes. I don't know of anyone more dedicated than he was. He didn't know cancer would take him out at the relatively young age of 54. And when he did get cancer and the treatment didn't get rid of it, he still worked tirelessly to make sure his message got out.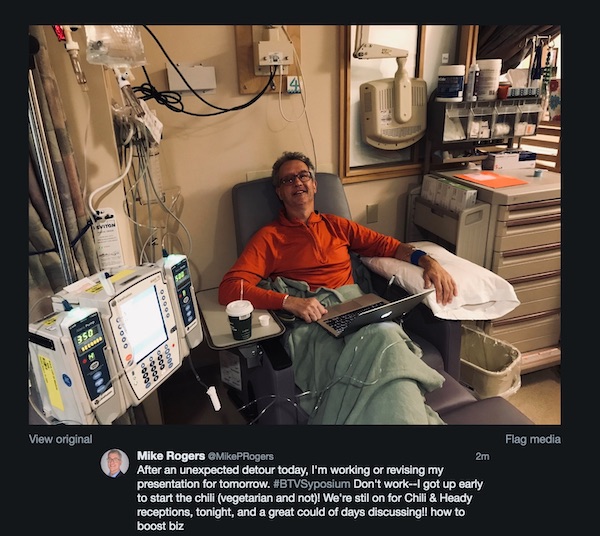 As you can see, he was working from a treatment center the day before he held a two-day symposium for home-performance contractors. He followed that with a day hike to the top of a mountain near his home in Burlington, Vermont. Jeffrey Sauls of Energy Vanguard was privileged to be there and can attest to the strength of Mike's work and convictions. Here's a photo of the hike, with Mike in the orange hoodie.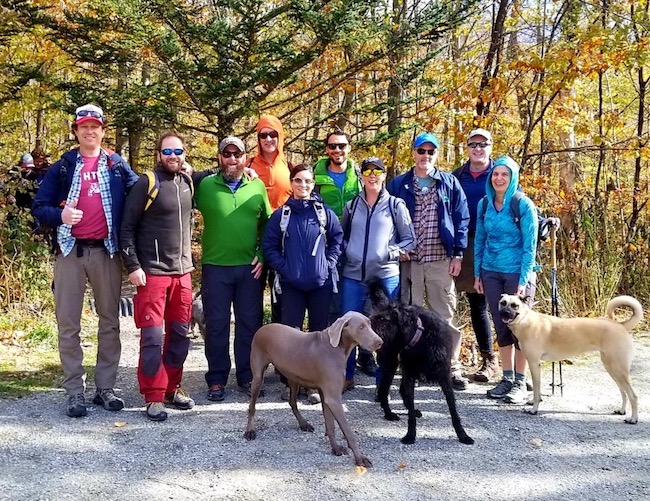 Speaking of hikes, Mike also was quite the accomplished hiker, doing some really technical hikes in Grand Canyon especially. Check out his blog on those hikes, Mike's Hikes.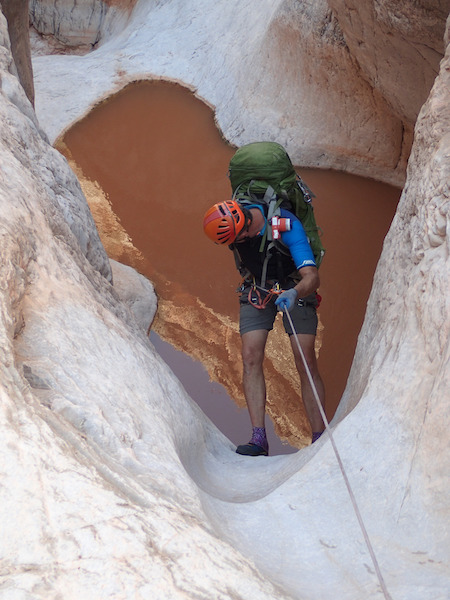 Be present
Buildings and people have finite lifetimes. We don't know how long any particular one will last or how its life will end. All we know is that we have this present moment to be with them. We can choose to use this moment getting angry at someone for cutting us off in traffic or saying something we don't agree with. Or we can instead watch the immediate reaction and then respond with love.
Cancer can be cruel and arbitrary, but we don't have to be. We can be as focused and dedicated as Mike as we make our way to whatever kind of end we face, whenever it might come.
An appeal: Mike's passion was educating contractors who go out and improve homes. You can help extend his work by donating to the Mike Rogers Memorial Scholarship Fund. I did.
–Allison Bailes of Decatur, Georgia, is a speaker, writer, building science consultant, and the author of the Energy Vanguard Blog. You can follow him on Twitter at @EnergyVanguard. Photos courtesy of the author.
Weekly Newsletter
Get building science and energy efficiency advice, plus special offers, in your inbox.