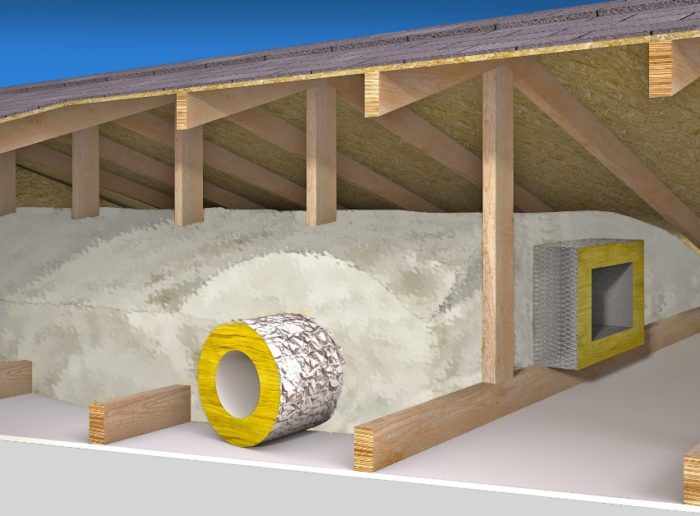 You shouldn't install ducts in a vented unconditioned attic. As most GBA readers know, ducts belong inside a home's thermal envelope, not in an environment that's cold in the winter and hot in the summer.
Efforts by energy-efficiency experts to convince builders to move their ducts indoors haven't been particularly successful. In states where slab-on-grade homes are common — in other words, in states where basements are rare — most builders still install ducts in vented unconditioned attics.
According to building scientist Joseph Lstiburek, the energy penalty associated with attic ducts is often in the range of 30% — that is, 30% of the home's heating and cooling energy is lost to the attic. By performing two important steps — carefully air sealing all of the duct seams, and moving the air handler into the home's conditioned space — the energy penalty associated with attic ducts can be lowered from 30% to about 10%.
Even better performance can be achieved, however, if the ducts are installed near the attic floor and buried in deep cellulose or blown-in fiberglass insulation. Historically, the main impediment to implementing this approach has been the concern that condensation can form on the exterior side of the ducts during the summer, making ceilings damp.
Why do attic ducts sweat?
If ducts aren't buried with insulation, they usually don't sweat. Most attic ducts are insulated flex ducts (that is, flex ducts with R-6 or R-8 fiberglass insulation, along with an exterior polyethylene jacket). When these ducts are exposed to exterior air, the plastic jacket never gets cold enough to permit condensation, because the hot attic air keeps the plastic jacket warm. But if the same ducts are buried in cellulose or fiberglass insulation, the added insulation lowers the temperature of the polyethylene jacket. If the jacket is cold enough, and…
Weekly Newsletter
Get building science and energy efficiency advice, plus special offers, in your inbox.
This article is only available to GBA Prime Members
Sign up for a free trial and get instant access to this article as well as GBA's complete library of premium articles and construction details.
Start Free Trial
Already a member? Log in