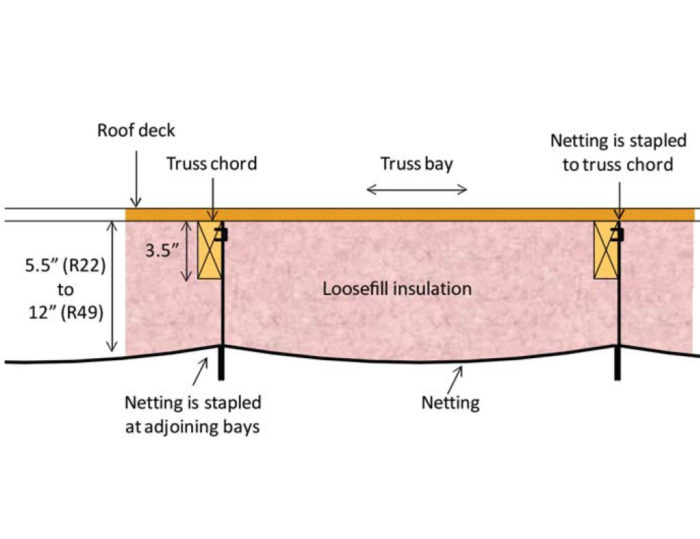 UPDATED on August 31, 2018 with new information on code changes allowing the use of vapor diffusion ports.
Experts usually advise builders that you can't install fiberglass insulation directly against the underside of roof sheathing. If you want to install fiberglass between your rafters, you have two basic choices: either include a ventilation channel between the top of the fiberglass insulation and the underside of the roof sheathing, or install enough rigid foam above the roof sheathing to keep the roof sheathing above the dew point during the winter. These rules were developed to prevent damp roof sheathing.
Most building codes (including the International Residential Code) allow just one exception to these rules: in Climate Zones 2B and 3B, you can install fiberglass insulation against the underside of your roof sheathing without a ventilation channel or rigid foam above the sheathing — but only if you install tile roofing. (This system works because concrete tiles and clay tiles are well ventilated and vapor-permeable, so any moisture that accumulates in the roof sheathing can dry toward the exterior.) The code exception can be found in section R806.5, subsection 5.2, of the 2012 IRC. (Of course, if the owner of such a home decides to re-roof with asphalt shingles, the roof sheathing may begin to rot. But that's another story.)
Owens Corning, a leading manufacturer of fiberglass insulation, is now promoting a package of products — basically blown-in fiberglass insulation and a new type of insulation netting — to create unvented conditioned attics. Owens Corning calls this proprietary insulation method the "ProPink High Performance Conditioned Attic System."
Surprisingly, Owens Corning is promoting this approach for unvented roof assemblies without any rigid foam above the roof sheathing. Does this make any sense?
This approach violates the code
Some Owens Corning documents include fine print warning builders that this…
Weekly Newsletter
Get building science and energy efficiency advice, plus special offers, in your inbox.
This article is only available to GBA Prime Members
Sign up for a free trial and get instant access to this article as well as GBA's complete library of premium articles and construction details.
Start Free Trial
Already a member? Log in