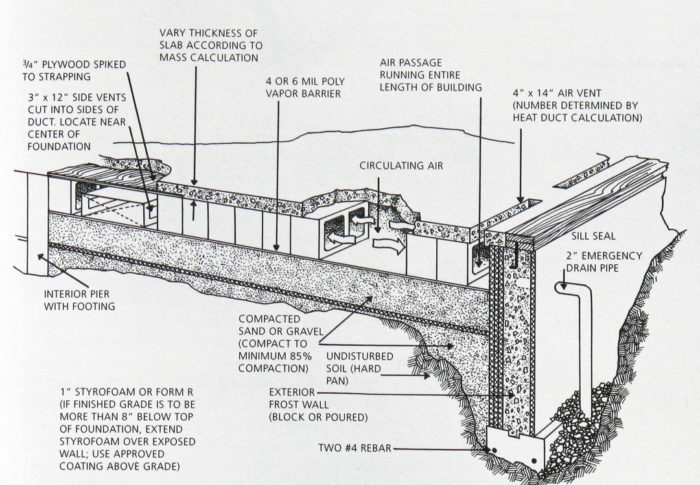 Concrete floors with high thermal mass are often at the heart of passive solar designs. The density of concrete helps it store thermal energy and helps to reduce uncomfortable swings in indoor temperatures.
Slabs collect some heat from the sun through south-facing windows, often supplemented by radiant-floor heating systems that use a network of embedded plastic tubing to circulate hot water.
Nothing unusual here. But in a recent Green Building Advisor Q&A, Jay asks about the possibility of inserting air ducts directly in concrete to keep it warm.
"I'm interested if there is any added efficiency in passive solar applications where air is circulated through the slab," Jay writes. "My impression is that this technique opens you up to a lot of potential moisture/mold scenarios. Does anyone know of any research that looks at the implications of this technique?"
As usual, there's no lack of opinion on the topic, although scientific studies that might answer Jay's question definitively don't seem to exist.
Some builders use this approach
AJ Builder points to the work of Bruce Brownell, who, he says, has "spent a lifetime designing, refining and building" this type of house.
"I have been in two of them," AJ adds, and they are very livable environments. The owners almost heat alone with very small heat sources, hot water tanks, woodstoves or just the sun at many times…I think ducted slabs are a great choice among many."
AJ includes a link to Adirondack Alternate Energy, presumably Brownell's Edinburg, N.Y., company, which describes how the houses are heated. A small fan gathers heat at the peak of the house and distributes it through "a heavy (70-100 ton) mass storage system under the lowest floor, and back to the house interior perimeter."
Houses…
Weekly Newsletter
Get building science and energy efficiency advice, plus special offers, in your inbox.
This article is only available to GBA Prime Members
Sign up for a free trial and get instant access to this article as well as GBA's complete library of premium articles and construction details.
Start Free Trial
Already a member? Log in