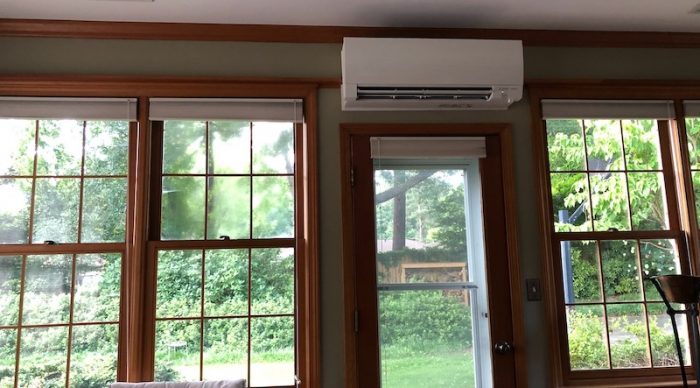 Recently I did a consultation with a homeowner in Michigan. He's got a 60-year-old house with a boiler and radiant heating system that has become a burden. The pipes for the hydronic distribution system just developed their seventh leak since he's lived in the house. To repair the leak would require tearing up the kitchen, so he's looking for other solutions.
One possibility is going with all ductless minisplit heat pumps. One HVAC contractor proposed seven indoor units for his 2100-sq.-ft., four-bedroom house—that's one ductless unit for each bedroom, plus three for the downstairs. The minisplits might be sized appropriately, but it would only be by accident. The contractor didn't do or even propose doing a load calculation.
Can you oversize a minisplit?
And that gets me to the real point of this article. A lot of people seem to think that you don't have to worry about oversizing a minisplit heat pump, whether ductless or ducted, because these systems have variable capacity. The heating or cooling output drops when the load is lower, so it's OK to put in a unit that's too big, they argue.
But is it true? No! Here's why. Minisplits do ramp down in capacity as the load changes, but they don't go all the way to zero. There's a bottom they won't go below.
Understanding turndown ratio
For example, the Mitsubishi FS06 wall-mounted ductless unit has a rated cooling capacity of 6000 BTU per hour and goes down to a minimum capacity of 1700 BTU per hour. That's a turndown ratio of 28% (1700 ÷ 6000). If you put that unit in a room with a load of 1500 BTU per hour, it will bottom out nearly 100% of the time it's running in cooling mode.
One of the great advantages of using minisplits is their variable capacity. By oversizing them, you can lose that advantage completely. That 6000 BTU per hour minisplit in a room with 1500 BTU per hour of cooling load doesn't act at all like it has variable capacity because it's always running at the lowest capacity.
So, yes, you absolutely can oversize a minisplit. And when you do, you end up with some of the same problems you get from oversizing conventional systems: comfort problems, poor humidity control, short cycling, and wasted money.
When a contractor proposes seven indoor ductless units for a 2100-sq.-ft. house without doing a load calculation, there's close to a 100% chance the system will be oversized. But this problem happens with new homes that get load calculations too. You've got to look at the specifications for any minisplit heat pump and put in one that will take full advantage of the variable capacity.
_________________________________________________________________________
Allison Bailes of Atlanta, Georgia, is a speaker, writer, building science consultant, and founder of Energy Vanguard. He is also the author of the Energy Vanguard Blog and is writing a book. You can follow him on Twitter at @EnergyVanguard.
Weekly Newsletter
Get building science and energy efficiency advice, plus special offers, in your inbox.