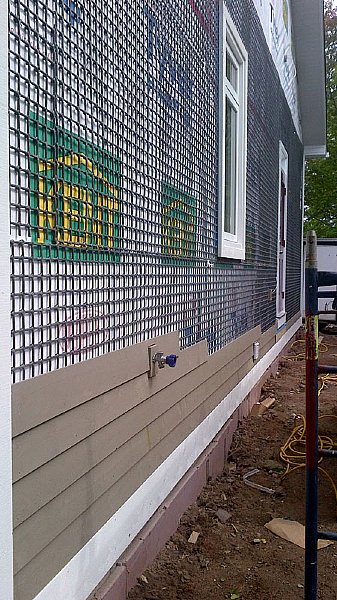 Builders who like to include a vented rainscreen in exterior walls can nail up wood or plastic furring strips before installing the siding, or use a plastic mesh such as Benjamin Obdyke's Cedar Breather under wood shingles on walls or the roof.
Now they have another choice, a plastic grid called Ventgrid that can be used to create a gap under siding, roofing and flooring. First introduced in eastern Canada four years ago, it's become available in the U.S. within the last couple of months.
Ventgrid is a 1/2-inch-thick panel made from high-density polyethylene that, according to the manufacturer, won't support the growth of mold, is easy to work with, and has several advantages over competing products already on the market. Ventgrid, made from post-consumer recycled plastic, was developed in Nova Scotia after a builder there grew frustrated with products already on the market.
"One of the local builders wasn't satisfied with what he had available to him for creating an air space behind shingles," said Anthony Smith, one of several partners that own the company. "He conceived what would become Ventgrid, and years later we teamed up with him to actually bring it into development."
Panels are manufactured with a 2-inch square grid pattern and 1/4-inch stand-off dimples that hold the panel away from the wall, roof or slab. Ventgrid will compete in what's becoming a crowded market.
It's not affected by UV, meaning it can be left to the weather for extended periods of time without degrading, and is unaffected by low temperatures, Smith said. As to strength, Smith said the non-compressible grid can handle compressive loads of 20,000 pounds per square foot before failing. When used under siding, each sheet has a rated vertical load capacity of 8,000 pounds, according to the manufacturer.
Taking the wave out of walls
One advantage over existing products used to create air gaps beneath cedar shingles, Smith said, is that Ventgrid won't compress.
"When you hammer the shingles onto it, it doesn't create a wave that you'll often see with some of the other compressible products," Smith said. "When you stand at the end of the wall, you won't get that wave. Plus if you have multiple people shingling the same wall, you won't have issues with guys nailing heavier than other guys. It doesn't matter how hard you nail it, it doesn't compress so you can't over-nail it. Likewise with roofs, after you put it on you can easily walk all over it without the compressibility causing any shifting or cracking of the shingles."
Ventgrid comes in 4-foot by 8-foot sheets that weigh 8 pounds each. The sheets can be cut much like gypsum wallboard: score the sheet along the intended cut and snap it. Smith says Ventgrid is light enough that a carpenter can cut a panel on the ground, take it up a ladder, and adjust the size if the cut is off without coming back down.
Panels are shipped flat, like plywood, although Smith said they have enough flexibility to be rolled or folded to get around a corner when working in a tight space.
To keep ventilation spaces behind siding or roofing free from insects and other pests, Ventgrid recommends the use of a companion product called Ventrim, which also can be used with rain screens made from 3/4-inch wood furring.
Ventgrid costs US $32-$36 per sheet, depending on the retailer. Distribution is limited to the eastern U.S. and Canada, although Smith said he hopes the company will find ways of pushing that farther west.
Weekly Newsletter
Get building science and energy efficiency advice, plus special offers, in your inbox.