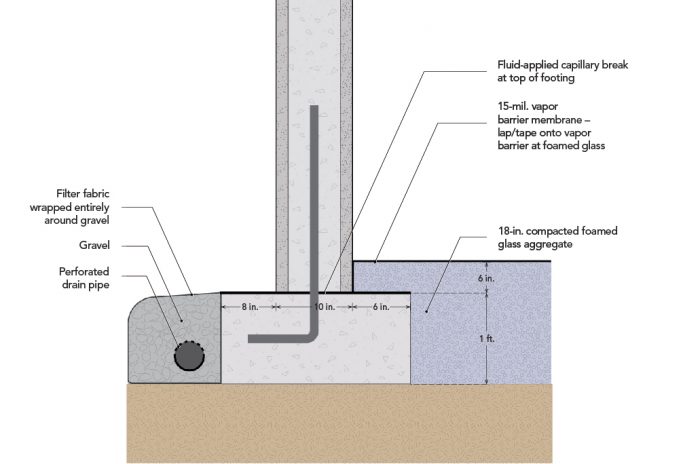 In October, 2021, Connecticut-based builder Ben Bogie of BPC Green Builders broke ground on a trailblazing project in the Hudson River Valley (climate zone 5). A collaboration with Trillium Architects, the 5000-sq.-ft. net-positive house is Japanese-inspired in design and building science–focused in construction. Keeping upfront carbon emissions to a minimum is a prime objective. The project minimizes the use of virgin foam insulation, reduces concrete where feasible, is engineered to avoid the need for steel, and optimizes materials made of recycled content. GBA is following the build and sharing key construction details along the way. (See Episode 1 of a 10-part video series covering this high-performance build.)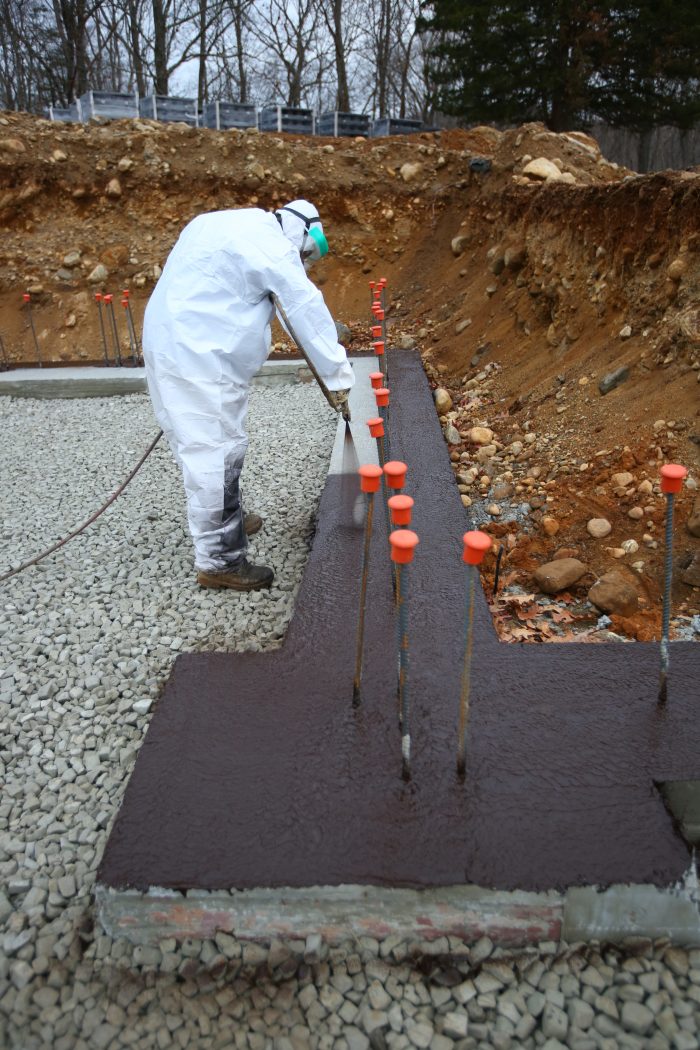 The first detail of note is the way they handled the capillary break at the 12-in. by 24-in. cast-in-place monolithic concrete footings, which include two horizontal rebars and 5/8-in.-diameter vertical rebar every 24 in. (substantially more rebar than most footings). Because the footings sit directly on soil and will wick water, it is critical to create a capillary break to prevent moisture from traveling into the foundation walls and potentially moving into the interior environment; this capillary action is the reason moisture accumulates on the backside of insulated foundation walls—a situation that can lead to high humidity, mold growth, and musty smells.
The capillary break is achieved with Tremco's Tuff-n-Dri fluid-applied waterproofing membrane at the top of the footings. After the footings are poured, they are allowed to set for a few days before work on the foundation walls begins. It is during this short break that a waterproofing subcontracting company (the same company that will waterproof the foundation walls) arrives to spray the membrane on the stripped footings. Ben says it's fast and cost-effective. It took an hour-and-a-half to cover all footings. He also says it works well in an assembly with so much rebar. The alternative peel-and-stick membrane method would require a lot of cutting to get it around all the rebar penetrations—a significant increase in labor costs and, arguably, a less effective measure, given the disruption of continuity that cutting the membrane creates.
"When looking at a high-performance building, we want to control all the energy flows throughout," Ben summarizes, "and one of them is the passage of water vapor and water, so we start at the lowest point in the assembly. We start controlling the forces there. The capillary break is the first step. If you leave that unaddressed, there is a pathway for water to get up through the foundation wall, which can affect the indoor environment."
_________________________________________________________________________
Kiley Jacques is senior editor at Green Building Advisor. Illustration by Patrick Welsh. Photo by Brian McAward.
Weekly Newsletter
Get building science and energy efficiency advice, plus special offers, in your inbox.