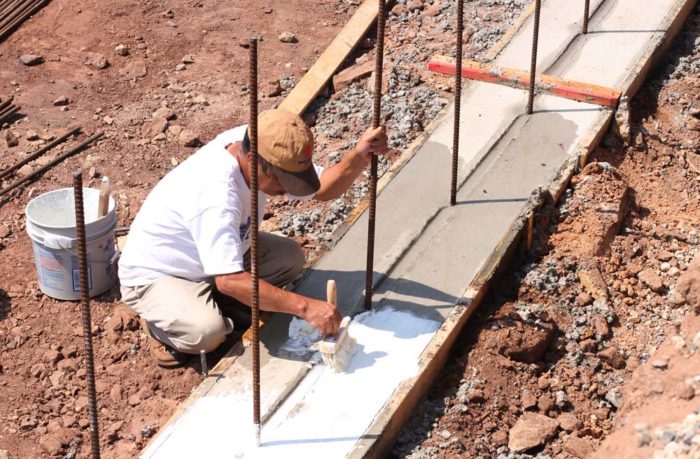 Builders routinely install several types of barriers to avoid damp basements. Examples of these features include a layer of crushed stone and polyethylene under a basement slab; asphaltic dampproofing on the exterior side of basement walls; and sill seal made of thin closed-cell foam between the top of a foundation wall and the mudsill. All of these materials are used to reduce the transfer of moisture from the damp soil surrounding a foundation to the interior of the building or vulnerable framing lumber.
Even when all of the listed features are installed, however, many builders forget to include a capillary break between the concrete footing and the basement wall. While installing such a capillary break isn't common practice, it's important.
About capillarity
If you place a large dry sponge in the middle of a shallow puddle, the top of the sponge soon becomes wet. This is a commonplace occurrence, so most people have an intuitive grasp of how capillary action works. Capillary rise isn't a phenomenon that is limited to sponges, of course; it also happens with concrete walls, CMU walls, and stone-and-mortar walls.
Capillary rise occurs when the forces of adhesion (the attraction between the molecules of a liquid and those of a solid) are stronger than the forces of cohesion (the attraction of the molecules of the liquid for each other). In some circumstances, equilibrium between these two forces is not achieved until the liquid has risen many feet.
In many houses, capillarity is responsible for the rise of water from damp soil under concrete footings into foundation walls. This phenomenon can contribute up to 15 gallons of water a day to a home's interior moisture load. Capillary action in soils and masonry — called "rising damp" in Britain — is a function of the…
Weekly Newsletter
Get building science and energy efficiency advice, plus special offers, in your inbox.
This article is only available to GBA Prime Members
Sign up for a free trial and get instant access to this article as well as GBA's complete library of premium articles and construction details.
Start Free Trial
Already a member? Log in