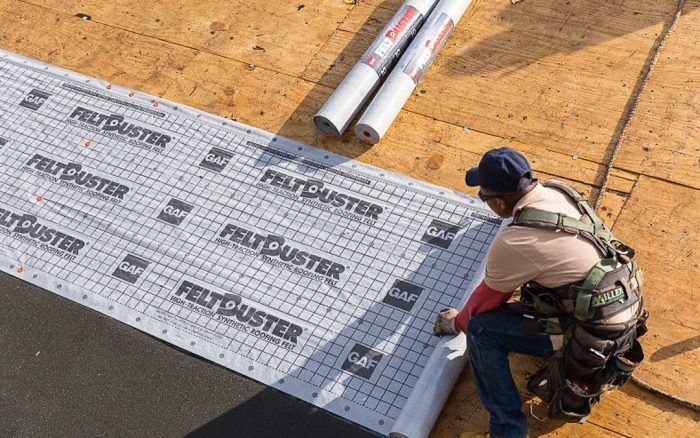 Builders once had one choice when it came to roofing underlayment: asphalt-saturated felt. OK, two choices—#15 asphalt felt and #30 asphalt felt. These days, there are dozens of brands of synthetic underlayment to choose from; products that cost more but also outperform the old standbys in many ways.
Felt paper remains the only type of underlayment that is explicitly mentioned in the International Residential Code (IRC), but plastic underlayments are widely accepted and have largely taken over the residential market, according to industry experts. Generally speaking, they are lighter, less prone to tearing and wrinkling, and more resistant to UV damage than felt paper.
Synthetic underlayments are typically made from polyethylene or polypropylene plastic and come in two basic types—vapor open and vapor impermeable. Impermeable underlayments far outweigh the number of vapor-permeable products, and they are the less expensive of the two, as Martin Holladay found in this survey published in Fine Homebuilding magazine. As building assemblies become tighter and better insulated, and the risk of moisture damage rises, vapor permeability may be an issue worth considering. Warranties offered by roofing manufacturers also may steer builders in deciding which underlayment to use.
Roofing underlayments shouldn't be confused with peel-and-stick membranes like Grace Ice & Water Shield. These waterproofing products are typically used along the eaves, as a hedge against damage from ice dams, in valleys, and in other high-risk areas—where a dormer wall meets the roof, for example. In coastal areas where wind-driven rain is a bigger risk, some builders completely cover sheathing from eave to ridge with peel-and-stick membranes instead of an underlayment. Still, these self-adhering membranes are really a different category of building product. (The Asphalt Roofing Manufacturing Association has published a guide on the use of self-adhering membranes, which you can read here.)
Weekly Newsletter
Get building science and energy efficiency advice, plus special offers, in your inbox.
This article is only available to GBA Prime Members
Sign up for a free trial and get instant access to this article as well as GBA's complete library of premium articles and construction details.
Start Free Trial
Already a member? Log in