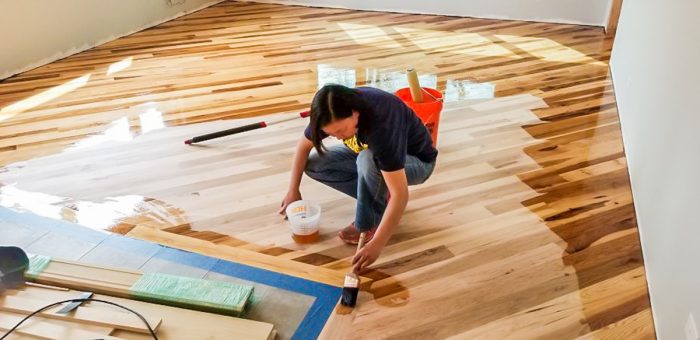 The Internet is awash in articles about environmentally friendly, or "green," flooring options along with the retailers who specialize in these products. The list of possible choices frequently includes wood, cork, tile, stone, linoleum, and bamboo, but it's rarely clear what criteria are used to establish their green credentials. In other words, what exactly makes one type of flooring more environmentally attractive than another?
Flooring in a healthy, environmentally friendly house should be non-toxic, durable, and have low levels of embodied carbon. It should be recyclable. It could be reclaimed. The manufacturing process used to produce it should not threaten the well-being of people who work in the factories or those who live nearby, and production should be sustainable far into the future without depleting basic raw materials.
If these goals seem straightforward, quantifying them is another story. For example, bamboo is often cited as an environmentally friendly flooring because it's made from a fast-growing grass species. But bamboo is grown in China, and the distance from manufacturer to end user incurs a carbon penalty in transportation. What about the binders that hold the fibers of bamboo flooring together? Are all of them non-toxic and low in volatile organic compounds (VOCs)? Is one brand of bamboo flooring like all other brands?
Shawn Hesse, director of business development for the International Living Future Institute (ILFI), borrows an old phrase and puts it this way: The devil is in the details.
These and other questions illustrate the complexities that builders, designers and consumers face when they're trying to make the right decisions about flooring as well as other building materials. There are, however, several sources of information that can help buyers sort out the health and environmental characteristics of different types of flooring, including chemical toxicity and embodied carbon.
…
Weekly Newsletter
Get building science and energy efficiency advice, plus special offers, in your inbox.
This article is only available to GBA Prime Members
Sign up for a free trial and get instant access to this article as well as GBA's complete library of premium articles and construction details.
Start Free Trial
Already a member? Log in