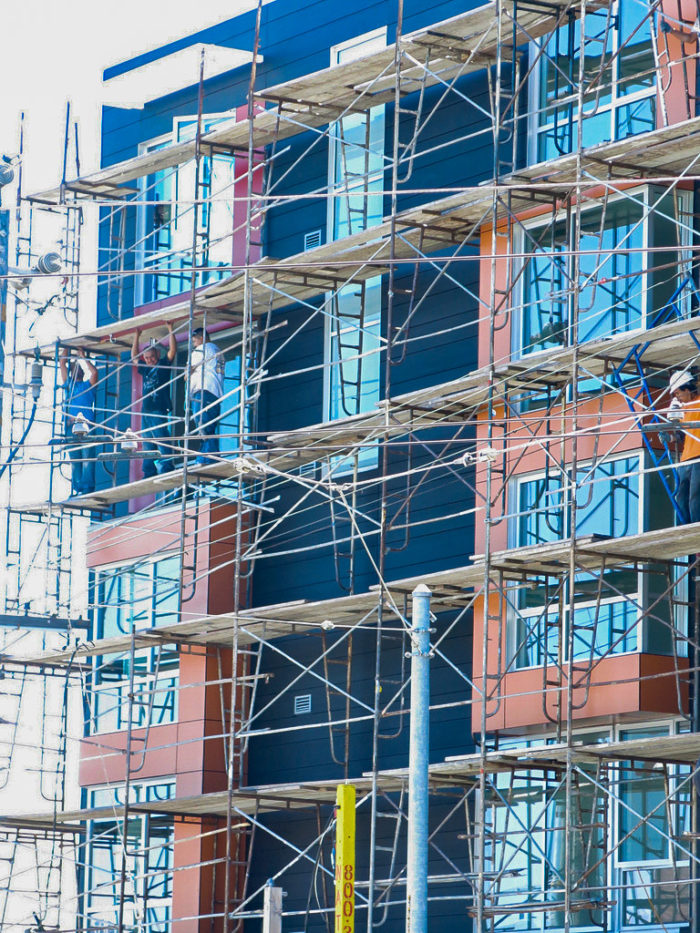 San Francisco leaders are hoping that new regulations allowing landlords to turn garages, storage rooms, and utility rooms into pint-sized rental units may help ease a serious housing shortage.
Only 1,250 affordable units have been added to the city's housing stock in the last two years, according to a post at Utility Dive. More than one-third of San Francisco area residents say they are prepared to move away, in part because affordable housing is so hard to find.
A measure passed by the San Francisco Board of Supervisors will allow landlords to make apartments out of spaces that up to now have been off limits. In buildings with fewer than five units, The Wall Street Journal reports, landlords will be allowed to add one rental; in larger buildings they can add as many as they like.
The San Francisco Examiner says that any new studio apartments will have to measure at least 300 square feet. The minimum for a one-bedroom apartment will be 500 square feet.
Until now, shoehorning small in-law apartments into existing buildings was not allowed because of concerns over overcrowding and a lack of parking.
"The whole in-law unit conversation was long viewed as the third rail of San Francisco politics," Aaron Peskin, a supervisor who co-sponsored the legislation, told The Journal. "Whether it's a shift in thinking or an adjustment to the crisis at hand, it is a sea change."
The move could add 14,000 rental units to what's currently available. The city added some 3,000 housing units last year, only 500 of which were judged affordable for low- and middle-income families.
The website Curbed says that median rents for a one-bedroom apartment last winter ranged from a low of $1,990 in the Excelsior district to more than $3,800 in the Russian Hill area. So a rent-controlled apartment carved out of a basement or garage could be very appealing.
Washington takes a different approach
Washington, D.C., another city with very high rents, took a slightly different approach to a lack of housing earlier this year with a new ordinance that permits tiny houses — accessory dwelling units — to be built on residential lots.
The houses can't cover any more than 35% of the gross floor area of the primary house on the property, and other restrictions also apply. But advocates applauded the move and said it would help diversify neighborhoods while expanding a rental market taxed by an influx of 1,000 new residents per month.
San Francisco's new ordinance is a compromise. A competing proposal would have allowed in-law units outside the structures of existing buildings. But in the end, city supervisors agreed that with a few minor exceptions the new units would be permitted only within existing buildings that have been in place for at least three years.
Miami also turns to tiny rentals
In Miami, businessman Moishe Mana is proposing a 49-story apartment building where rentals would be so small that an oven wouldn't fit in the kitchen, and the only parking would be for bicycles, according to The Miami Herald.
Mana's plans call for 328 apartments starting at 400 square feet, the minimum permitted under current city codes. Penthouse units would be the biggest, at 600 square feet, but most apartments would be about 500 square feet. The apartments would rely heavily on built-in beds and tables that can be stowed when not in use. Common kitchens and dining rooms would be available.
Apartments are designed for young singles who want to live in an urban setting and are willing to walk or use public transit. Rents would be "affordable," although they weren't announced.
Miami faces the same housing problem as San Francisco and other cities: rising rents and a shortage of housing that is affordable to poor and middle-income people. Jack McCabe of McCabe Resarch told The Herald that if Mana sets rents in the mid-range of apartments in the area where the tower will be built, he would get about $2.25 per square foot, or $900 per month for a 400-square-foot rental.
"They will fill it up," McCabe said. Common kitchens would be desirable for many renters, he said, many of whom are moving to Miami from South America and Europe, where compact spaces are much more common.
That's same tactic used at Carmel Place in New York City, which features apartments as small as 260 square feet. Some apartments in the 55-unit building have rents of $900 per month, but most will go at market rates, up to $2,910 for a furnished, 355-square-foot unit.
Last year, 60,000 people submitted applications for the 14 affordable studios in the building.
Seattle also is on the bandwagon. The Seattle Times reported last fall the city had 780 micro-apartments (some as small as 200 square feet) approved for occupancy and another 1,598 in the pipeline.
Weekly Newsletter
Get building science and energy efficiency advice, plus special offers, in your inbox.