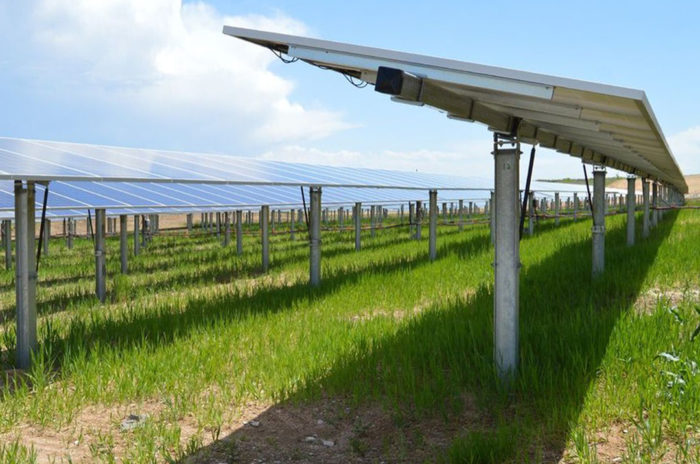 Colorado is expanding its energy assistance efforts to make solar electricity available to more low-income households. The state is using a systematic approach that experts say could be a "clear roadmap" for other states.
A report posted at Inside Climate News says that photovoltaic (PV) arrays rated at 20 megawatts, all earmarked for low-income residents, should be installed by the end of next year. That includes rooftop solar systems at some homes as well as a number of community solar facilities that collectively serve hundreds of households.
Rooftop PV arrays have been installed by county and regional weatherization offices that already were adding insulation and making other energy-efficiency improvements for low-income residents. One county weatherization official called the expansion into solar "the next logical step" in helping low-income people lower their energy bills.
In addition to installing rooftop solar on individual homes, Colorado's Energy Office also is backing a number of community solar projects. They include the 2-megawatt Coyote Ridge Solar Farm in Fort Collins, which is thought to be the largest low-income community solar facility in the U.S. It was installed by the nonprofit Grid Alternatives in conjunction with the local utility, Poudre Valley Rural Electric Association.
In all, eight community solar projects have been developed that help some 400 low-income subscribers reduce their electricity bills by between 15% and 50%.
Colorado is one of a dozen states and the District of Columbia that have PV programs for low-income households. Colorado's program is not the largest, but it is viewed as a model because officials developed a step-by-step process that could be adapted successfully by other states.
"Ultimately, the Colorado Energy Office strategy is only one example of how states can develop a comprehensive approach to support PV deployment among low-income residents," a recent report from the National Renewable Energy Laboratory (NREL) said. "Nevertheless, [Colorado's] efforts offer a clear roadmap for other states …"
Missing the solar revolution
The NREL report, authored by Jeffrey Cook and Monisha Shah, points out that low-income households spend proportionately more of their money on energy than others. One study of 48 U.S. cities showed the median energy burden for low-income households was 7.2%, more than double the burden for the median household across all cities. In some cases it was much higher.
One way of reducing energy costs is by installing on-site PV systems, but the NREL report says this boom has largely been reserved for middle- and upper-income families. In California, for example, only about 5% of all residential PV installations were on homes with annual incomes of less than $40,000.
"If this trend holds true in many other states, PV may disproportionately benefit higher-income families nationally," the authors said.
Colorado addressed the problem with a 2010 law called the Community Solar Garden Act, which required developers of community solar projects to make sure that at least 5% of their subscribers were low-income households. Since then, the Colorado Energy Office has expanded efforts by supporting community solar projects that were completely earmarked for low-income households and by incorporating PV into state weatherization programs.
Until 2005, photovoltaics were not eligible for funding under the federal Weatherization Assistance Program. Through the Energy Policy Act approved that year, weatherization funds could be used for up to $3,000 worth of solar on an individual residence, providing the state could show the Department of Energy that adding solar to its program would be cost-effective. (The limit has since been raised.) The state has also tapped into federal money distributed under the federal Low Income Home Energy Assistance Program to pay for weatherization programs.
Xcel Energy, the state's largest investor-owned utility, helps subsidize the cost of PV installations using money it collects under a renewable energy portfolio fee, the NREL report says. From 2017 to 2019, the number of households getting PV is limited to 300, with the capacity of each system capped at 3.5 kW.
Roughly 11% of Colorado residents are what the NREL report calls "energy impoverished," meaning they spend more than 10% of their annual household income on energy. Energy-efficiency improvements typically include the replacement of refrigerators and light bulbs, and adding insulation in the attic, around ducts, and in walls. In addition to savings from those improvements, households that also got PV installations could see annual energy savings of $400 or more, the NREL report said.
Joseph Pereira, director of low-income services for the Colorado Energy Office, told Inside Climate News that making solar available to more low-income people also helps address a basic fairness question. Low-income electricity customers pay the same renewable energy fee to their utility as any other customer, he said, but they get a disproportionately smaller share of direct benefits.
"From an equity standpoint, it was really time to get some of that money moving in the low-income direction," he said.
Getting the cost of PV down
In a telephone call, Pereira said that PV installations help solve an inherent weakness in conventional weatherization programs. Data gathered by his office show that low-income residents spend about 50% of their energy budgets on home heating and the other 50% on electricity unrelated to heating.
"We have a long-standing weatherization program that does a great job and saves customers a lot of money, but it really doesn't save on the electric side of that ledger," he said. "We didn't embark on solar for solar's sake. The data really led us to the idea that we could use solar, be it rooftop or community solar, to achieve our goals, which was to put low-income customers' expenditures in parity with the rest of the state."
The goal is not to "give away free electricity," he added, but to make sure these customers have about the same energy burden as customers who have more money. That means a reduction in power bills of 30% to 50%.
When the program began, the state was paying installers about $3.60 per watt for the installations. But since then, they've knocked about $1 off the cost, due largely to steep reductions in the soft costs that installers typically would have to cover. Pereira said the program's internal target is $2 a watt.
In deciding which homes get solar and which don't, program officials are bound by federal guidelines that require at least a 1-to-1 payback. That is, for every $1 spent on solar the benefit to the customer must be at least $1.
"We're not putting solar on any homes where it's not cost effective to do so," he said. "That is, the customer receives benefits greater than the investment we make. We're seeing positive numbers. We're seeing a 1.8 to 2.4 return on investment."
The expansion of conventional weatherization improvements to include solar is just an acknowledgement that the utility landscape is more dynamic now than it has been in the past, Pereira said. "This isn't any magic thing," he said. "It's just more responsive to the world we're in now."
Weekly Newsletter
Get building science and energy efficiency advice, plus special offers, in your inbox.