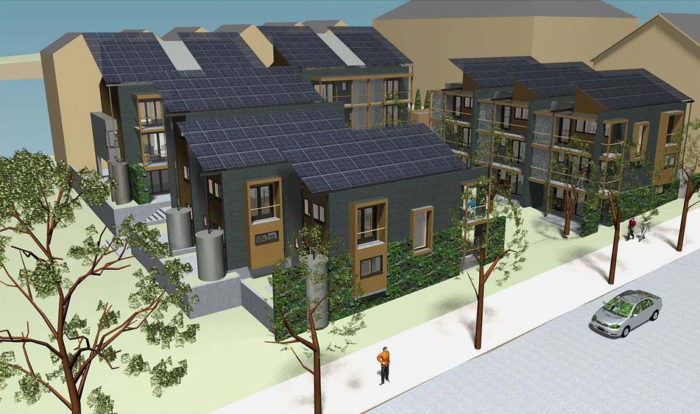 Banks No Longer Willing to Provide Construction Loans
ISSAQUAH, WA — Construction of the Z-Home project, a ten-unit zero-energy housing development in Issaquah, Washington, has been halted by the credit crunch, according to the Issaquah Press. The project's two main developers are the City of Issaquah and Howland Homes of Shoreline, Washington, with further help from Puget Sound Energy, King County Built Green, and the Washington State University Energy Program.
Among the planned features of the Z-Home buildings are 11-inch-thick cellulose-filled double-stud walls, ground-source heat pumps, rooftop photovoltaic arrays, and real-time energy monitors with living-room displays. Construction of the Z-Home townhouse project, touted as "the first multi-unit zero-energy project in the country," was announced last fall before all of the necessary financing had been secured.
"The day the stock market dropped 800 points was the day of our groundbreaking," said Brad Liljequist, the Zero Energy Project Manager for the city of Issaquah. "It was stunning. Within a two-week period, we went from a number of banks saying, 'Yes, we're on board and we're interested,' to banks saying, 'No, we can't do it.' " Liljequist says that the planned October 2009 completion date for the Z-Home townhouses now "looks doubtful."
The Issaquah Press story quoted David Fujimoto, Issaquah's resource conservation office manager. "The Bank of America is not doing any lending for home construction on the West Coast," Fujimoto said. "It's a volatile time." For more information on Issaquah's zero-energy project, visit www.z-home.org.
Weekly Newsletter
Get building science and energy efficiency advice, plus special offers, in your inbox.