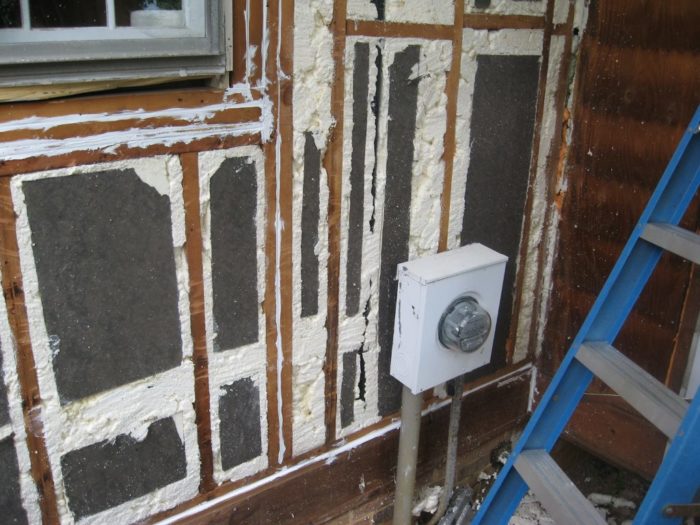 Here at GBA, readers regularly ask about the best way to install rigid foam insulation between studs or rafters. A typical question might go like this: "I'd like to insulate between my studs with strips of 2-inch-thick polyiso. I plan to cut the rigid foam pieces a little bit loose, and seal the edges of the polyiso with canned spray foam. Will this work?"
Here's my standard answer: "If you want to insulate your walls with rigid foam, you shouldn't cut the foam into thin strips. Instead, you should keep the sheets of foam intact and install the foam as a continuous layer on the exterior side of your wall sheathing. That way, the foam will interrupt thermal bridging through the studs."
Sometimes, I also point out: "Although the method you suggest, informally known as 'cut-and-cobble,' is often used by homeowners, it is such fussy, time-consuming work that it is never used by insulation contractors." (The first person I heard use the term "cut-and-cobble" was Dana Dorsett, a regular contributor to the Q&A column on GBA. Dorsett first used the phrase in a web forum post in April 2012. "I'm not entirely sure if I was the first to use that term in a rigid insulation context, but I might be," Dorsett told me.)
Time for a confession
If I had to summarize the theme underlying my cut-and-cobble advice, it would probably be, "Don't do it." But this advice leaves me feeling somewhat guilty. It's time to come clean, and, like a newcomer at a 12-step meeting, announce: "My name is Martin, and I have cut and cobbled."
Yes, I've done it — for the same reasons that lots of other people have done it. Sometimes, cut-and-cobble makes sense.
Weekly Newsletter
Get building science and energy efficiency advice, plus special offers, in your inbox.
This article is only available to GBA Prime Members
Sign up for a free trial and get instant access to this article as well as GBA's complete library of premium articles and construction details.
Start Free Trial
Already a member? Log in