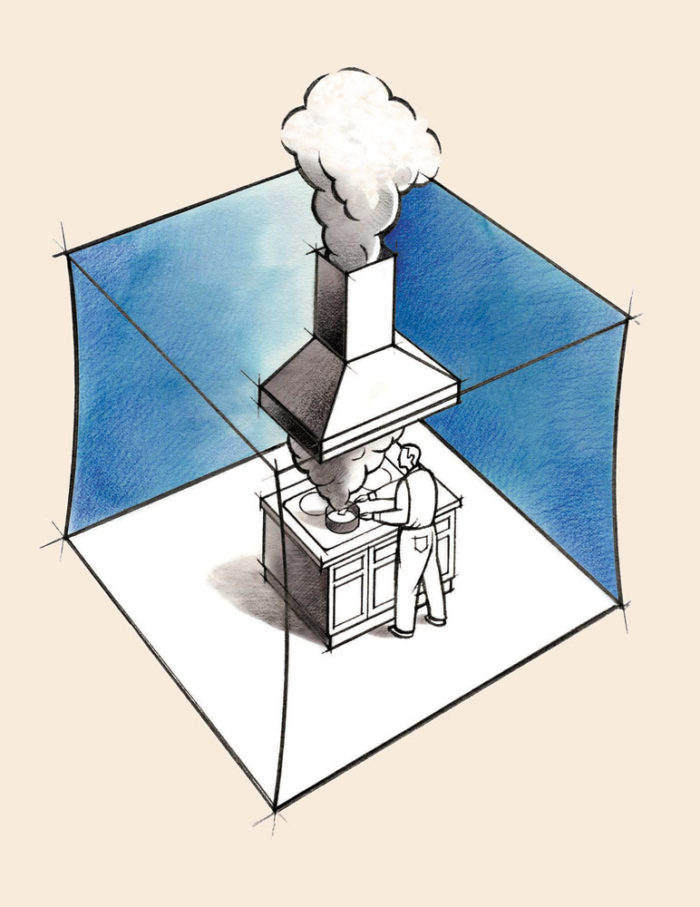 A range hood that whisks away cooking odors, moisture, and grease is almost always recommended as a way of keeping indoor air healthy. But what happens to the equation when the range hood is a behemoth, capable of sucking up 900 cubic feet of air per minute?
That's the dilemma that Sean McLoughlin is facing as he designs a 3,500-sq. ft. house in southern California. The kitchen will be outfitted with a professional-size range and barbecue grill.
"We've had one before — we used it 4 or 5 nights a week — and they produce huge amounts of heat and smoke," McLoughlin writes in a Q&A post at GreenBuildingAdvisor.
California requires that houses with high-power exhaust fans include equipment to supply makeup air, to ensure that the exhaust fan doesn't depressurize the house, and McLoughlin is trying to sort out the details of how to accomplish that.
"The HVAC system we're planning will include an outside air exchanger (not an energy-recovery ventilator or heat-recovery ventilator, just a controlled damper) ducted into the return before the filter stage on each of the two forced air units/systems in the house," McLouglin says.
"Is it possible that those two sources of outside air can be tied in to the exhaust hood to provide sufficient makeup air for the kitchen exhaust hood? Or should we be planning to add non-centrally tied in make up air ducts direct from outside using automatic dampers?"
McLoughlin's search for a practical solution to this problem is the starting point for this week's Q&A Spotlight.
How about a change in plans?
Anticipating an obvious reaction, McLoughlin says he'd rather not hear suggestions to install a smaller kitchen range or simply…
Weekly Newsletter
Get building science and energy efficiency advice, plus special offers, in your inbox.
This article is only available to GBA Prime Members
Sign up for a free trial and get instant access to this article as well as GBA's complete library of premium articles and construction details.
Start Free Trial
Already a member? Log in