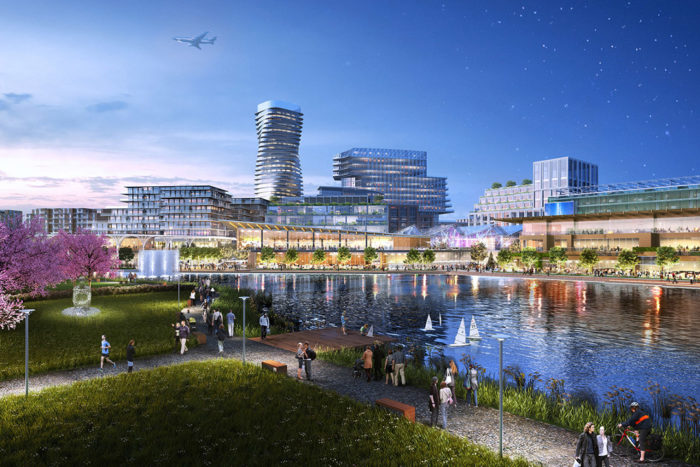 A massive real estate development project called Union Point is taking shape on 1,400 acres of land about 12 miles south of Boston on what was once the South Weymouth Naval Air Station. Developers say that the community will become a living laboratory for "smart city technologies and sustainability solutions."
The developer is LStar Ventures, a privately held company that has, according to its website, developed more than 65 "environmentally sensitive" communities in 15 states since it was founded in 2007. Clean Technica reports LStar picked up the project in 2015 after another developer, which had built 500 homes on the site, jumped ship.
According to the company's website, Union Point eventually will include 4,000 private homes, 10 million square feet of commercial space, and 1,000 acres of open land. The $5 billion project will take 15 years to complete, Clean Technica says, with the first commercial space to be finished by the end of next year.
North Carolina-based LStar says Union Point is being designed from the ground up to be "socially and environmentally conscious." Commercial buildings will meet LEED Gold or Platinum standards. It wasn't clear from either the company's website or the Clean Technica report whether houses in the project would be designed to meet any particular building standard — net-zero ready, Energy Star, LEED, or Passive House, for example — but LStar promises building performance specifications "to radically reduce energy use." The company didn't respond to a request for more information.
The project will lean heavily on computer technology and the "internet of things." Computers will monitor mechanical and electrical HVAC systems, manage how water is used, and control traffic flow. Union Point will include both roof- and ground-mounted solar arrays, plus battery storage. The project is getting planning help from the design and engineering firm Arup.
A bid to host Amazon
In addition to building an "inspired, urban community," LStar Ventures also would like to lure Amazon to town to build a second national headquarters. In an announcement, Amazon said the $5 billion project would be a "full equal" to its existing campus in Seattle and would lead to the creation of as many as 50,000 jobs.
Competition is intense, but Boston is on a short list of strong candidates, according to an article posted by Forbes. LStar has developed its own pitch to Amazon, emphasizing Union Point's proximity to Boston, its 4,000 units of affordable housing, and its emphasis on "technology, sustainability and architectural beauty."
LStar says it's in the process of designing a 500,000-square-foot office building that could serve as Amazon's first building. It will ready for occupancy in 2019. Eventually, the Amazon campus could total more than 8 million square feet.
Weekly Newsletter
Get building science and energy efficiency advice, plus special offers, in your inbox.