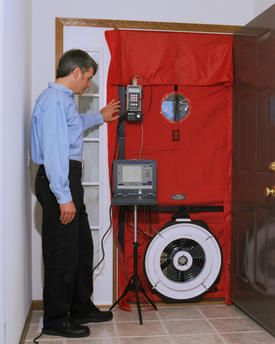 UPDATED: 12/9/10 with expert opinions from David White and Marc Rosenbaum
Frank O's new house is tight — very tight. Tests by an energy auditor measured 0.13 air changes per hour at 50 pascals of depressurization (ACH50), meaning the house beats the very stringent airtightness target of the Passivhaus standard.
Frank O has installed a heat-recovery ventilator (HRV) to provide fresh air as well as fans for spot ventilation and a range hood fan rated at 189 cubic feet per minute (cfm).
Sounds perfect. So what's the problem?
"The auditor and I also played with the spot ventilation fans and his manometer, and we were able to reach -46 pascals with all house fans on and the electric clothes dryer on," Frank O writes in his Q&A post. "My concern is: with such a tight house, where does the air come from during spot ventilation and clothes drying?"
Are the numbers right?
J Chesnut's first question is whether the auditor has calculated air leakage correctly.
"Are you sure you calculated your ACH number correctly?" he asks. "It is not unusual for someone to determine the volume of the building incorrectly and therefore miscalculate the ACH from the cfm reading.
"The tightest among Passivhaus builders in the U.S. I am familiar with is .15 ACH and I heard this was possible to attain because it was a mid-sized commercial building (apparently the smaller the building the more difficult it is to get a low ACH)."
In a subsequent post, Frank O confirmed Chesnut's suspicions. It turns out that his house tested at 2.14 ach50, not 0.13 ach50. So Frank O's house isn't quite as tight as his first post claimed.
Frank O provided additional details about how the house was constructed: blown-in cellulose in the scissor-truss attic, damp cellulose…
Weekly Newsletter
Get building science and energy efficiency advice, plus special offers, in your inbox.
This article is only available to GBA Prime Members
Sign up for a free trial and get instant access to this article as well as GBA's complete library of premium articles and construction details.
Start Free Trial
Already a member? Log in