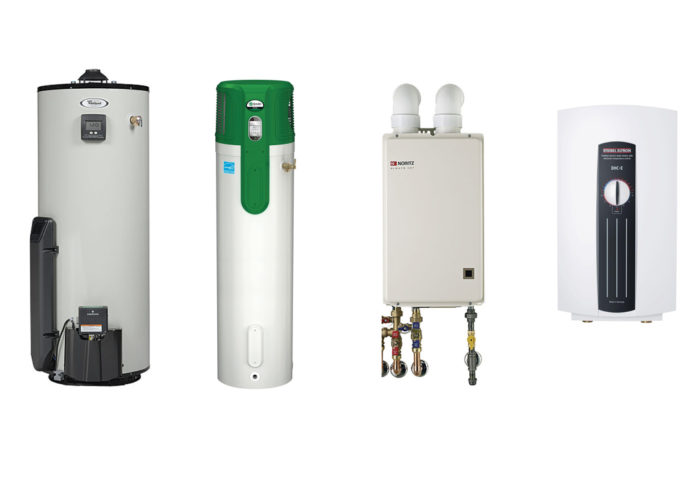 Some questions are easier to answer than others. For example, there is a fairly straightforward answer to, "How should I insulate the floor of my unconditioned attic?" — namely, "With a deep layer of cellulose." (There's more to say on the topic, of course — but even a full answer isn't very complicated.)
There is no easy answer, however, to, "How should I heat my domestic hot water?" Every type of water heating technology is flawed; every solution involves compromise.
Many factors affect the decision about what type of water heater to choose, including:
Do you have a big family or small family? (The most efficient water heaters are usually expensive. Big families find it easier to justify high equipment costs, because annual energy savings are proportional to hot water usage rates.)
Does your house now have, or will your house soon have, a photovoltaic (PV) system? (An all-electric approach makes more sense for homes with PV than homes without PV.)
Is natural gas available at this site? (Natural gas is the cheapest available fuel, but that fact doesn't help those without access to natural gas.)
Are you in a warm climate or a cold climate? (A heat-pump water heater makes more sense in a warm climate than in a cold climate.)
Is your house cramped? (If your house is tiny, you may prefer to install a tankless water heater, and it's unlikely that you will want a heat-pump water heater, which usually requires either a high-ceilinged basement or a fairly large mechanical room.)
The all-electric house
If your house has an unshaded south-facing roof, or a generously sized yard with room for a ground-mounted PV array, it's a good guess that your house will eventually be equipped with a solar electric system — especially if your local…
Weekly Newsletter
Get building science and energy efficiency advice, plus special offers, in your inbox.
This article is only available to GBA Prime Members
Sign up for a free trial and get instant access to this article as well as GBA's complete library of premium articles and construction details.
Start Free Trial
Already a member? Log in