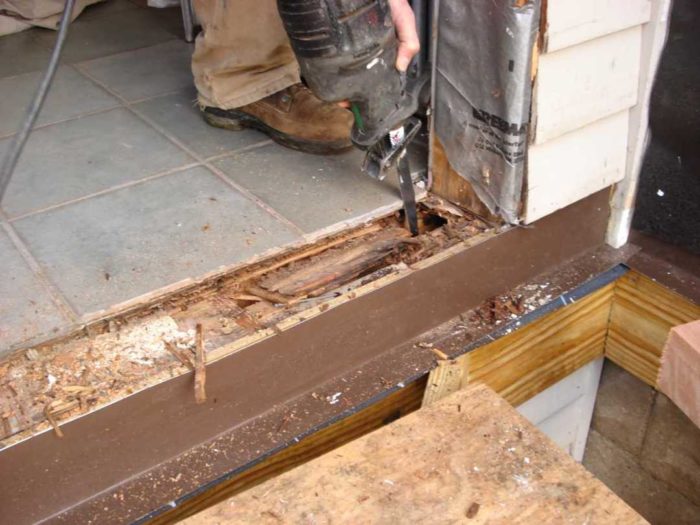 Door design details
The photo at right is from an entry that's just 15 years old. Fortunately, it was able to be repaired. I haven't always been so lucky. Let's just say that replacing subfloor and framing is no fun. A safe assumption is that, for one reason or another, doors always leak. They shouldn't, but they do. Seals wear out. Wind blows. Jambs rot. Sills crack. Weepholes clog. Following are some ways to mitigate the chance of damage.
Always use a sill pan. I used to make my own out of lead, a practice (and a material) I would not recommend. Then I used custom-soldered copper pans, but only on the most exposed locations, due to cost. Less-exposed locations received pans made from bituminous membrane. It is imperative that the corners are sealed, which is hard to do. Simply adhering the membrane to the subfloor without creating sealed, upturned corners only relocates the water. Now it's easy: I specify one of the ready-made sill pans. It is important, however, to seal the sill pan to the subfloor and the door sill to the pan to prevent air leakage and flexing of the door sill.
Choose the right sill type. When it's important to be historically correct, I call for real wood sills, protected with epoxy paint or a penetrating sealer such as Penofin or Sikkens. Otherwise I prefer adjustable aluminum or fiberglass sills. They are usually available in brown or tan, if mill finished aluminum is not desired. Turning a few screws is enough to snug the sill against the door to stop water and air from getting through. Where the side jamb meets the sill there is usually a big dollop of butyl caulking. Don't cut it away the way I did as a novice carpenter—it is necessary for sealing the transition between components. I like to order doors with "long horns" on the sills, meaning that the sill extends to the outside edge of the casing instead of the inside edge, where a vulnerable corner is susceptible to moisture. It takes more care to work with and is usually a special order, but I've repaired enough doors to consider it a worthwhile detail.
Use rot-proof jambs. An added benefit to an adjustable sill's air-sealing capability is the fact that it's rot-proof. Rot usually starts at the bottom of the jambs. The end grain wicks water and rots the wood from the inside out. It shows up as paint failure after it's too late to fix. This can be minimized by priming all sides of the jamb and leaving the caulking at the sill joint. Some manufacturers offer an even better alternative: rot-proof lower jambs. While as a rule I don't consider pvc or composites to be green, this is one case where it solves a real problem.
Storm doors are often discouraged because excessive heat buildup can damage the doors they are meant to protect, and if you live in a warm climate, you wouldn't want them anyway. Anywhere that's cold part of the year, though, I would still like to use them. They are a first line of defense, the same way siding takes the brunt of the weather but has housewrap behind it. Plus, in warm weather the storm panel can be swapped out for a screen panel, allowing for natural ventilation.
Overhangs should protect every door. I know it's not always possible, but a porch roof or some other form of protection is a good goal. Not only does an overhang keep rain from hitting the door on its way down, it also minimizes damaging splashback. An overhang also keeps the summer sun from baking south-facing doors. My favorite reason for overhangs: They offer a protected location to ease the transition between indoors and out.
Weekly Newsletter
Get building science and energy efficiency advice, plus special offers, in your inbox.