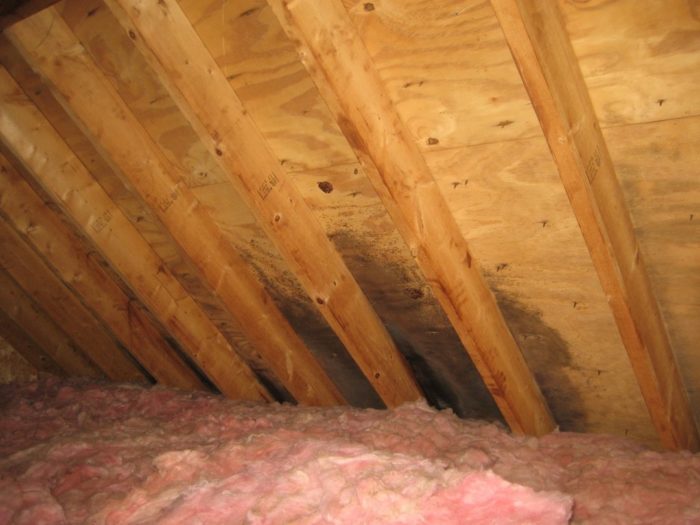 The homeowners called me after a certified home inspector stated that the attic was underventilated and moisture was building up as a result. The roof assembly had soffit vents at the eaves and two gable-end vents. These vents would not be as effective as ridge-to-soffit ventilation, but were probably close to building code requirements (see Green Basics – Attics).
I did not have the time to get down to the home to take a look myself, so I asked the homeowner to send me photos of the house and the problem. It's a bit dicey to diagnose a problem and give guidance over the phone based on a short series of photos, but armchair building science is an honorable pastime.
What does the pattern of mold suggest to you? It sure looks localized to me. When asked how many "spots" of mold there were in the attic and where they were located, the homeowner replied that the two most prominent areas of attic mold were located just above two doors that separated living space from a kneewall partition forming unfinished closets. Aha! Warm, moisture-laden air was leaking into the attic at the doors and condensing on the cold plywood. I recommended that the homeowners confirm the air-leakage diagnosis with some performance testing and likely air-sealing resolution.
So how did we do?
Mark Lance (BPI-Certified) of Cozy Home Performance conducted a blower-door test on the home to quantify the air leakage and assess the location of big holes. The home was very leaky (CFM50 – 5300)1. The mold and air leakage in the attic turned out not to be focused on the kneewall closet doors but was more widespread throughout the attic. So we got the air leakage right — just not how extensive it was.
More attic ventilation would not have solved this mold and moisture problem; extensive air sealing will (and will reduce the homeowner's energy bills as well), however. Had the solution to increase attic ventilation taken the form of an attic exhaust fan, it may have increased the air leakage and moisture problem.
Get the right stuff
Make sure that the folks evaluating your home have the right training and experience. In this case, the difference between a certified building performance professional and a certified home inspector proved to be the difference between getting it right and getting it wrong.
……………………………………………
1CFM50 – 5300 means that the blower door was pulling 5,300 cubic feet of air per minute out of the house when the blower door was creating a pressure difference of 50 pascals between the inside and outside of the house. For a home of this size (1,800 sq. ft. or so), that is pretty darn leaky, but not unusual for homes with little air sealing.
Weekly Newsletter
Get building science and energy efficiency advice, plus special offers, in your inbox.