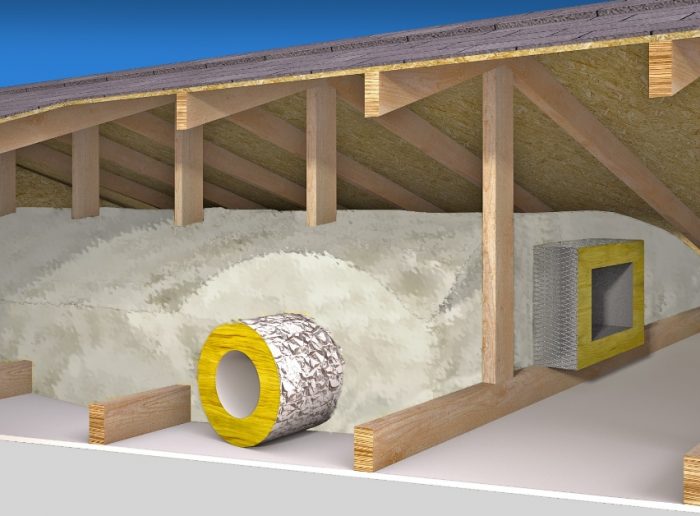 My heating and air conditioning contractor wants to put the air handler as well as the ductwork in the attic, which we're not planning on insulating. The ductwork will be insulated, but is this still a bad idea?
In a word, yes, it's a really bad idea to run ductwork through an unconditioned attic unless very specific precautions are taken. A variety of problems are possible.
The practice is still fairly common in some parts of the country. But as building scientist Joseph Lstiburek puts it, "Where were the adults when this decision was made?"
First, ducts are going to leak. When they do, Lstiburek argues, conditioned air (air that has been heated or cooled and possibly dehumidified) can be drawn out of the house while unconditioned air is drawn in.
Then there are the energy losses. In winter, the heat escaping from supply ducts warms up the attic, melts the snow on the roof, and creates perfect conditions for ice dams. Researchers at the National Renewable Energy Laboratory have estimated that ducts in unconditioned attics waste about 20% of the output of the furnace or air conditioner, and that may be on the low side. In three western cities with high cooling loads, these researchers estimated that losses on the hottest day of the year could amount to 28% of AC output.
The problem is made worse when flexible ducts run in swooping arcs across an attic, held up here and there by wire that crimps the ducts and reduces air flow and efficiency.
If it's such a lousy idea, why do builders continue to put air handlers and ductwork in attics that are boiling hot in summer and freezing cold in winter? Because it's cheap and convenient.
"Builders are going to continue to put ducts in the attic because floor space is too expensive to closet them within living space, and there are both construction and aesthetic issues with other approaches such as dropped ceilings," a paper published by the Oak Ridge National Laboratory states.
What options do you have?
A better idea is to put the ductwork in a conditioned space. This includes a sealed, conditioned crawlspace, a basement, in between the open webs of floor trusses, or in enclosed soffits near the ceiling. These are options best explored when designing the house, when there's still time to work around potential problems. Once the house is built, it gets a lot more complicated.
Because of limited access to the equipment for maintenance, putting HVAC equipment and ducts in a sealed crawlspace has its drawbacks, although it's a much better option than an unconditioned attic.
A home with a central hallway is a good candidate for a soffit or dropped ceiling built specifically for ducts. Ceiling height should be planned accordingly. One such arrangement, including air-sealing details, can be found in the GBA Detail Library here.
Even when ducts are inside the building's thermal envelope, they should be sealed to make sure that air flow is not affected and to minimize the risk of air leaks. Ducts can be sealed with mastic, or in a proprietary process developed by Aeroseal in which a water-based aerosol sealant is forced into ductwork, closing off leaks.
As Martin Holladay explains in this article, there are a variety of ways to keep ducts out of unconditioned spaces, but there is probably going to be a cost attached to all of them; and they require better coordination with subcontractors. It's worth the effort. Sealed ducts routed through a conditioned space will lower heating and cooling bills, make for a more comfortable house, and head off potential problems associated with air leaks and moisture.
Burying ducts and moving insulation up
There are two options for locating ductwork in an attic. The first is to move the building's thermal boundary from the attic floor to the roofline, which places the ductwork inside conditioned space. The other is to bury ducts in a layer of insulation on the attic floor, leaving the balance of the attic unconditioned.
There are a variety of ways to safely move the thermal boundary to the roof—that is, without risking condensation and moisture problems. Both vented and unvented roof assemblies are possible, provided that some basic safeguards are followed. In all cases, it's important to be aware of the minimum insulation levels required by building codes; in northern parts of the U.S. the International Residential Code requires R-49 in the roof.
Possible insulation choices include fiberglass or mineral wool batts, closed-cell polyurethane foam, rigid foam, or a combination of different kinds of insulation, such as flash-and-batt that combines spray polyurethane with batt insulation. Combining fluffy insulation between rafters and a continuous layer of rigid insulation on top of the roof sheathing, another option, minimizes thermal bridging.
Burying ducts in insulation is the second possibility. But there's a catch. Even though flex ducts are protected with R-6 or R-8 insulation, moisture in the air may condense on the polyethylene skin of the duct in the summer. This can happen when ducts are buried in a shallow layer of air-permeable insulation like cellulose or loose-fill fiberglass. This is a problem that's most acute in hot, humid climates, not in the arid West.
One way of skirting the problem is by encapsulating the ducts in a layer of closed-cell polyurethane foam, which prevents humid air from coming into contact with the duct's outer surface. Until several years ago, this was the only recognized approach to this problem. But in 2016 a researcher at the Home Innovation Research Labs reported the results of monitoring at a South Carolina home showing that R-8 insulated ducts buried in R-30 fiberglass insulation did not show any signs of condensation.
This development, which is explained in detail in this article, allows builders to skip the closed-cell foam barrier. Although the language can be impenetrable, the requirements are spelled out in Section R403.3.6 of the 2018 IECC. Builders who take this route should be extremely careful to make sure the ducts are sealed and that the polyethylene jacket has no rips or tears. The minimum amounts of insulation by climate zone are specified in the IECC.
---
Scott Gibson is a contributing writer to Green Building Advisor and Fine Homebuilding magazine.
Weekly Newsletter
Get building science and energy efficiency advice, plus special offers, in your inbox.